ELANTE MALL CHANDIGARH: A Complete Guide.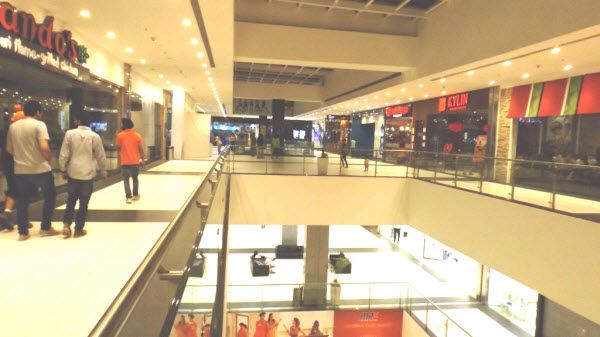 ABOUT ELANTE MALL
Elante, developed by Larsen & Toubro Group, is the largest mall in Punjab, Chandigarh, Himachal Pradesh and Jammu & Kashmir. You will be surprised to know that the mall is stretched over 1.15 million sq. ft. of retail space and that is why touted to be the largest mall in this region. It includes an assortment of international & domestic lifestyle brands, departmental stores, entertainment zone, food court, multiplex, a hypermarket and open spaces.
Often known as the 'City Beautiful', Chandigarh is one of the most well-planned and developed cities of India. Till now, the city has faced criticism for limited number of malls and the presence of international brands. The Elante Mall proves to be the best response to the words of critics. The mall has been built keeping in mind complex, prescribed environment protection norms. It has about 218 brands who are the tenants of the mall. The mall's ambiance and infrastructure is excellent and can lure anyone.
DESIGN OF THE BUILDING
Designed by 'Woodhead', the popular architectural firm from Australia, Elante is a place where one could enjoy shopping, entertainment as well as office spaces – all under one roof.
The development comprises of three distinct facilities which consists of Shopping Mall, Office Complex and Hotel with central courtyard. There are 3 blocks of office space with Ground + 3 levels. The overall development of the project also includes a world class hotel. The parking area is designed to accommodate over 5800 cars and has three basement floors dedicated to it. The parking charges are very nominal.
The design of the mall ensures customer comfort with all amenities and easy circulation covering a central courtyard, well planned service and utility areas, both vertical and horizontal circulation and greenery covering both plantation and horticulture. 40 escalators, 17 elevators, and 2 travelators are installed just to provide that extra comfort to all customers and staff.
Apart from these facilities, the mall has 16-meter wide aisle spaces, three separate washrooms per floor and Italian marble flooring on the entire ground floor. The water fountains at the main entry add to the exterior beauty of the mall.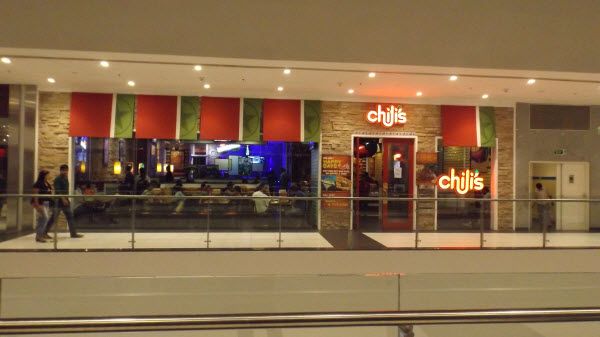 THE SUCCESS STORY - JOURNEY TILL NOW
Elante has been successful in positioning itself as a happening one-stop-shop and this has led to the mall being featured on the Chandigarh map. It has value for money and premium brands, which address the need of all visitors or we can say 'there's something for everyone'.
Events, interactive activities and promotions are regularly conducted in the mall leading to more customer engagement thereby ensuring repeat visits by its fans. It has conducted some popular events like New Celebrations, Christmas Celebrations, Diwali Fiesta, First Anniversary Celebrations, Kids Carnival and Baisakhi Celebrations. Apart from these celebrations the mall has conducted special promotions like Apple iPhone 5S launch, Disney Princess Academy, Sony Music launch, and other automobile launches.
The management at Elante mall creates a wish list through customer feedback before leasing out shops and creating a perfect brand mix. The list is then finalized as per zoning plans and a bouquet of brand mix for customers is created. They also make sure that the look and feel of every space is befitting the mall and is of highest international standard.
FUTURE OPENINGS
This would be a big surprise for the people of Chandigarh. Hotel Hyatt is opening shortly in courtyard of the Elante Mall where the 2nd building will be occupied by the hotel. What else the people of Chandigarh would expect. Elante will boost the city economy and trade by a great margin in coming times.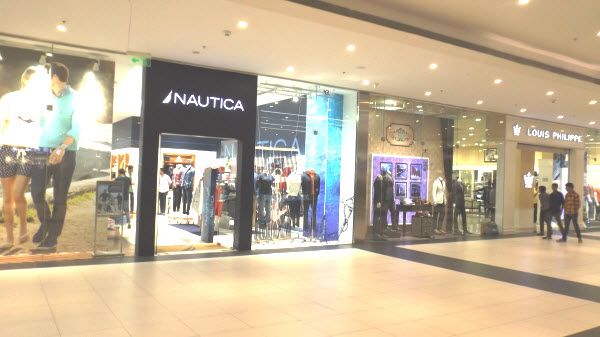 DISCOVER ELANTE
Elante Mall comprises of 3 floors with:-
Courtyard Ground Floor
Finest Coffee
Beer Cafe
Delectable cosines
Gourmet Desserts and shakes
Mexican Continental Cuisines
Ground Floor
Premium Fashion
Premium Bags and Accessories
Premium Footwear's
Mixed Fashion
Premium Watches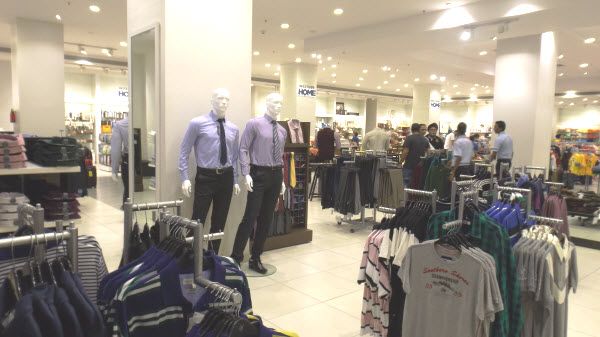 First Floor
Men's Fashion
Sportswear
Mixed Fashion
Footwear
Bags and Accessories
Second Floor
Women Fashion
Children Fashion and toys
Ethnic Wear
Electronics
Mobiles and Accessories
Bag and Accessories
Kids Entertainment
Premium Jewelry
Third Floor
Food
Cinemas
Family Entertainment
Pubs
Food Court
Restaurant
Bowling
WHAT'S ON LOWER AND GROUND FLOOR
LOWER GROUND FLOOR
Big Bazaar, Pantaloons, Metro Sports & Fitness Super Store, Jagat Singh & Sons Home, Archies, Store 99, John Players and a new store I am in.
GROUND FLOOR
Where to Shop International apparel:
Being Human, Bebe, Guess, Hackett, Collective, Jack & Jones, Vero Moda, Only, Lacoste, CK, Forever New, La Senza, Tommy, Mango, Blanco, Superdry, Gant, Benetton, GAS, FCUK, Diesel, Kenneth Cole, Promod, Brooks Brothers, United Colors of Benetton
Where to Shop International Footwear & Bags:
Quicksilver Roxy, Clarks, Hush Puppies, Da Milano, Charles & Keith, ALDO, Nine West, Steve Madden.
International Accessories & Watches:
Kapoor watch Co., Swarovski, SGH, ETHOS, Talwar Watch Co.
Where to Look forHigh End Cosmetics & Skin Care:
Lifestyle, Shoppers Stop, Westside, Marks & Spencer, Zara.
Café's to Enjoy Coffee:
Coffee Bean and Tea Leaf, The Beer café, CCD, Choko La, Girl in the Café, Haagen Dazs, Mocha.
WHAT'S ON FIRST FLOOR…
Where to Shop for Formal Wear:
Color Plus, Arrow, BlackBerry's, US Polo, Van Heusen, Raymond Shop, Peter England, Louis Philippe, Park Avenue, Zodiac, Pinell, Bagzone/Lavi, Carlton London, Bata, Kudos, Shoetree,
Where to Shop for Footwear & Bags:
Woodland, Caterpillar, Reliance Footprint, Metro Shoes, Inc 5, Regal,
Where tolook for Unisex/Casual Apparel:
Bombay High, Flying Machine, Allen Solly, Wills, IZOD, Lee/Vans, Wills Lifestyle, Pepe Jeans, Parx, Levies, NumeroUno, Nautical/Next.
Where toShop for Sports Wear:
Planet Sports, Puma, Adidas, Sketchers, Nike,
Whereto Look for Electronics, Watches & Eye Wear:
World of Titan, Mohanlal & Sons, Helios, Casio.
Where to Shop for Cosmetics & Skin Care:
Shoppers Stop, Westside, Marks & Spencer, Lifestyle, Zara, Parcos.
Where to Look for Women Western Wear:
Remanika, Latin Quarters, Madame, AND, Chemistry, Elle, 109 F, Isabelle.
Café:
Café
WHAT'S ON SECOND FLOOR…
The Stores for Accessories:
Kushal's, Ayasha, Add Ons, Clairs.
The Stores for Apparels:
Black, Manyavar, WH, Jaamawar Minx, Jashn, All, Biba, Karmik, W, Meena Bazaar, Monte Carlo, Global Desi.
The Stores for Apparels & Accessories:
Inner Secrets, Landmark Designer Studio, Ethnicity, Gili.
TheStores for Bags:
Holii
Café:
Cafe Coffee Day
The Stores for Eye Wear:
GKB Opticals
The Stores for Food & Grocery:
Chef's Gateway
The Departmental Stores :
Shoppers Stop, Reliance Trends
The Stores for Footwear:
Reliance Footprint, Crocs, Women Square.
The Stores for Electronics & Gadgets:
E Store, Jumbo Electronics, Apple I Store, Sony Center, Samsung, Usha, Bose, Reliance Digital, Game 4U.
The Stores for Furnishing & Home Décor:
BO Concept, Pure Home & Living (DLF)
Spa & Salons:
O2 Spa, Looks Salon, Indulge Spa
The Jewelry Shops:
Talwar Jewelers, AL Anmol, Mool Ji Diamonds
The Stores for KidsApparels & Toys:
ELC, Mother Care, Kidiology, Just for Kids, Wonderland, Kapsons Junior, Chicco, Gini & Jony, Hamleys Toy Store
Traveling Bags Store:
Delsey
WHAT'S ON THIRD FLOOR…
The mall has an amazing 750 seating capacity in its 1,858 square meter of food court where people can enjoy multitude of food and beverage options. Other than that there are various international and domestic eating joints where people can enjoy different types of foods according to their taste. Various Eating joints along with their prices are mentioned below:-
Café:
Red Mango, Monica's, Barista
Where to Look for Food & Grocery:
Cooks Corner (Cheese & Wine), Chocoholic
Food Services:
KFC, Nik Baker's, Cuppa Bistro, Mrs Kaur's, Urban Tadka, Sindhi Sweets
Entertainment:
Blu-O
Specialty Restaurants:
Nando's, Plum Asian Bistro, Kylin, Chili's, Pirates of Grill, Kobe Sizzlers, Rajdhani, Copper Chimney, Noodle Bar, Pizza Hut, Mc Donalds
Sports Bar:
Underdoggs
Playzone:
Fun City
Have a Look at the Popular Restaurants in Elante – What to Eat! (Rates as of Sept 2014 are subject to change anytime)
Pirates of Grill– 3rd Floor
Cost for 2: Rs. 1200
Underdoggs Sports Bar & Grill– 3rd Floor
Cost for 2: Rs. 1500
Nando's– 3rd Floor
Cost for 2: Rs. 1200
Chilli's– 3rd Floor
Cost for 2: Rs. 1300
Rajdhani Thali Restaurant– 3rd Floor
Cost for 2: Rs. 1200
Kylin Experience– 3rd Floor
Cost for 2: Rs. 1200
Brooklyn Central– 3rd Floor
Cost for 2: Rs. 1400
Mocha– Ground Floor
Cost for 2: Rs. 1200
The Beer Café– Ground Floor
Cost for 2: Rs. 1200
Monica's Kitchen & Kaffe– 3rd Floor
Cost for 2: Rs. 1500
Copper Chimney– 3rd Floor
Cost for 2: Rs. 900
Plum –3rd Floor
Cost for 2: Rs. 900
Backpackers Café– Courtyard
Cost for 2: Rs. 1500
Noodle Bar–
Cost for 2: Rs. 1000
Dunkin Donuts– 3rd Floor
Cost for 2: Rs. 450
Chocholik– 3rd Floor
Cost for 2: Rs. 200
Girl in the Café– Ground Floor
Cost for 2: Rs. 1500
Red Mango– 3rd Floor
Cost for 2: Rs. 400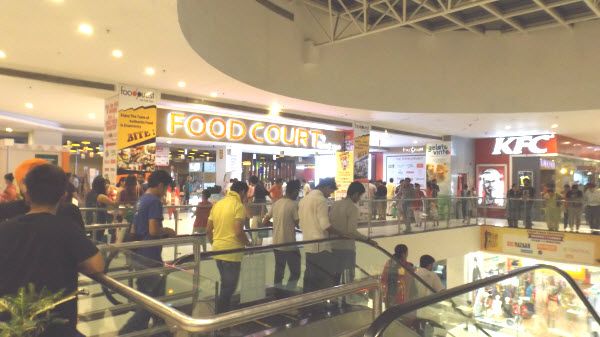 The Coffee Bean & Tea Leaf– Courtyard
Cost for 2: Rs. 900
Sindhi Sweets – 3rd Floor
Cost for 2: Rs. 400
KFC – 3rd Floor
Cost for 2: Rs. 500
Nik Baker's –
Cost for 2: Rs. 800
Ni Hao – 3rd Floor
Cost for 2: Rs. 600
McDonald's– 3rd Floor
Cost for 2: Rs. 500
Sole Mio – 3rd Floor
Cost for 2: Rs. 800
Pizza Hut – 3rd Floor
Cost for 2: Rs. 800
Chatori Street – 3rd Floor
Cost for 2: Rs. 400
Domino's Pizza – 3rd Floor
Cost for 2: Rs. 600
Hurry Curry – 3rd Floor
Cost for 2: 400
Anaaj– 3rd Floor
Cost for 2: Rs. 500
4700 BC Popcorn–
Cost for 2: Rs. 250
Kobe Sizzlers–
Cost for 2: Rs. 1500
New Zealand Natural– 3rd Floor
Cost for 2: Rs. 350
Juice Lounge– 3rd Floor
Cost for 2: Rs. 1200
Yo! China– 3rd Floor
Cost for 2: Rs. 1200
Cuppa Bistro– 3rd Floor
Cost for 2: Rs. 650
Shree Rathnam– 3rd Floor
Cost for 2: Rs 500
Subway– 3rd Floor
Cost for 2: Rs. 450
Barista Lavazza Espresso Bar–
Cost for 2: Rs. 600
Amritsar Express– 3rd Floor
Cost for 2: Rs. 350
Swagath Express– 3rd Floor
Cost for 2: Rs. 900
Tao Express– 3rd Floor
Cost for 2: Rs. 800
Café Coffee day Lounge– Ground Floor
Cost for 2: Rs. 500
Baker's Oven– 3rd Floor
Cost for 2: Rs. 250
Roll Over Kebab– 3rd Floor
Cost for 2: Rs.600
Sizzles Café– 3rd Floor
Cost for 2: Rs. 600
The Bubble Tea– 3rd Floor
Cost for 2: Rs. 400
Gelato Vinto– 3rd Floor
Cost for 2: Rs. 300
Above mentioned are some popular restaurants where you can enjoy some tasty food and beverages and the prices mentioned above are approximate and basic only which may have variations in their buffet on weekends for both vegetarian and non vegetarian.
What's for Fun…?
Funcity stands for fun, family entertainment and Enjoyment. Fun City, you can enjoy rides and games like Bumper Cars, Samba Balloon and other activities. Fun City is a leisure concept by Landmark Group, the retail giant from Dubai. It offers families with a great experience of spending quality time with their loved ones and play along with their kids. There is a credit card system for playing games. Minimum card credit is Rs. 200. There is a private party area for kids (Rs. 425/625/800) in which all these mentioned things are covered:-
Play-zone for 30 minutes/ One ride
Invitation cards
Decorated party area for 1 hour (minimum 20 kids duration 2 hours)
Return gifts
Add-ons for the party
Entertainment at Fun City
-Tattoo
- face painting
- Mascot
- Portrait Art
- Caricature
- Hair Braiding
- Nail Art
- Balloon Sculpture
- Mehendi
- Magic Show
- Puppet show
Services provided at party:-
- Photo
- Video
- Balloon decoration
- Theme party decor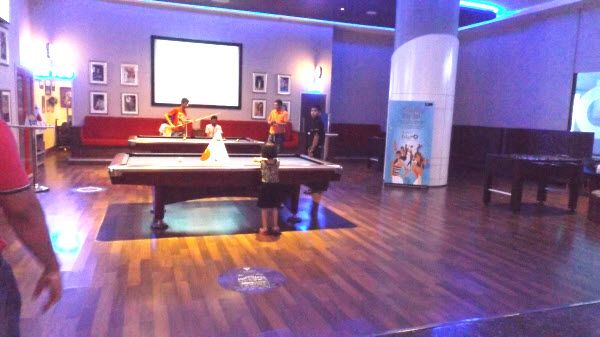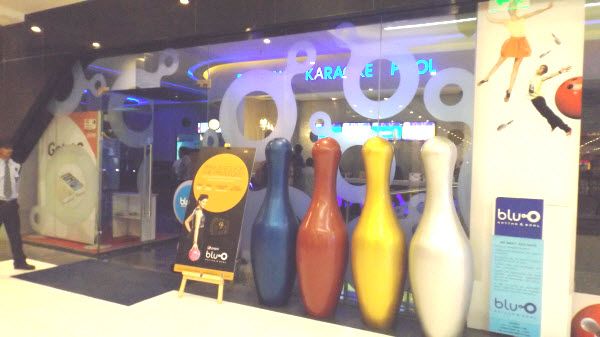 Blu-O is another place where you can go for bowling and enjoy some amazing food and drinks. The opening hours are 11 Am to 11 PM for Monday to Sunday. This is not the end, there's an 8 screen PVR Multiplex with recliner seats. It has 3D screens and 2K digital projection system with Dolby Digital Sound System. In Addition to that there is a HyperPVR cinemas 9Di.
What will u experience in 9Di movie?
3D, Rain, Wind, Snow, Lightening, Smoke, Bubbles, Seat movement and Gun(to shoot on screen) are covered. In that a 15-20 minute movie is shown in which most of the features are covered which cost around Rs. 250 per person.
Incase if you are out of cash, there is a Citibank ATM machine on the third floor in front of Funcity where you can withdraw cash and not let the fun time at Elante conclude.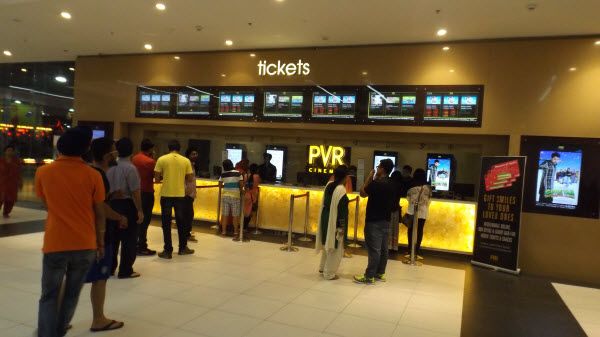 The Crowd at Elante Mall!
It's been just a short time since Elante Mall commenced operations in Chandigarh but the rush is massive. You cannot count heads during weekends and holidays. You will find the shoppers, daters, the family guys, movie maniacs and those who just visit to click photographs.
A few visits to the mall and you will come to know what kind of crowd hangs over there. Whoever they are – just came to roam around or shop brands, they are great.
ELANTE MALL PARKING RATES (Rs. per entry as of September 2014)
Parking rates 4 wheeler Rs. per entry (as of Sept 2014)
0-2 hours (Rs. 20)
2-4 hours (Rs. 30)
4-8 hours (Rs. 40)
8-12 hours (Rs. 50)
12-24 hours (Rs. 80)
Above 24 hours (Rs. 80+ slab wise)
Lost ticket (Rs.100)
Two wheeler (Rs.10)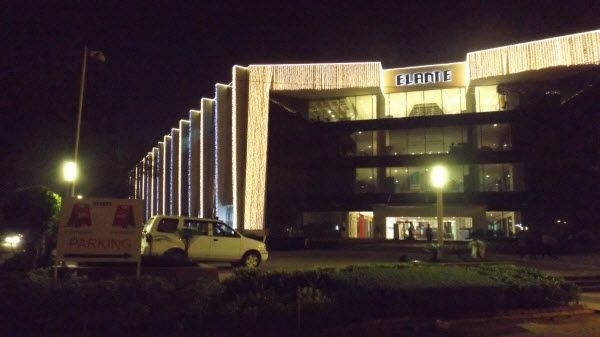 Elante Address:
No. 178, Industrial Area, Phase 1, Chandigarh, 160017, India.
Phones:+91 172-4654482
Timings: All days of the week: 11:00 AM – 11:00 PM
How to Reach Elante Mall from Sector 17 Chandigarh?
It is about 15-20 minutes drive from the major sectors of the city. From sector – 17 it's approximately 5.9 km and time to reach depends upon the road traffic and mode of transportation. .
Head North-East 12m

Turn right towards Himalaya Marg 0.2 Km

Turn left towards Himalaya Marg 55m

Take the 1st right toward Himalaya Marg and drive along Income Tax and Central Excise Office (on the left) 0.1 Km

Turn left towards Himalaya Marg 0.1 Km

Turn right towards Himalaya Marg 0.5 Km

Turn left into Udyog Path 3.3 Km

Turn right onto Purv Marg 0.7 Km

Turn left 0.4 Km

Turn Left 0.4 Km

Turn right 68 m