1. Sukhna Lake (Editor's Choice)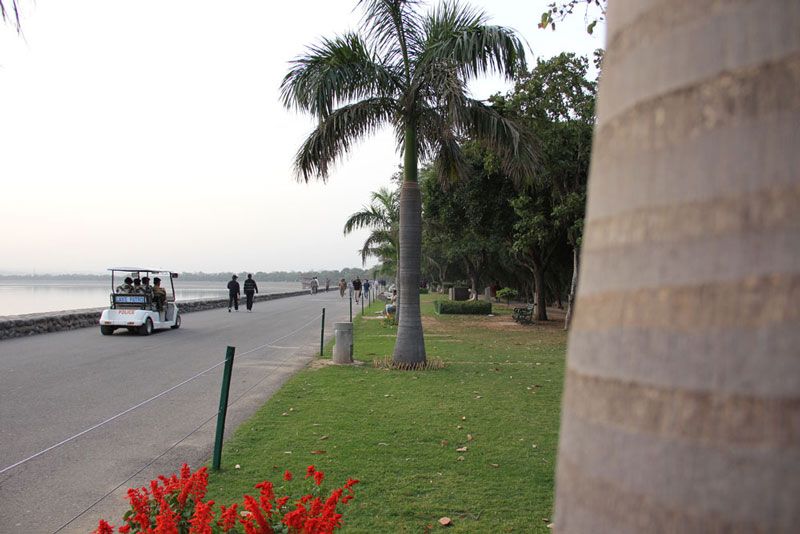 Sukhna Lake in Chandigarh is a typical rain dependant lake and a big reservoir at the foothills of the Himalayas, known as the Shivalik hills. This lake spread over 3 sq. km. was created in 1958 by damming the Sukhna Choe, a seasonal stream making a breakthrough from the Shivalik Hills.
An exercise and walking routine is followed by dawn and dusk walkers, families enjoy a stroll every now and then and photographers and painters often make best use of their talents to capture the scenic beauty of the setting sun, the lake view, the heavily clouded monsoon sky, or the early morning mist in winter.
Sukhna Lake has facilities of boating, rowing, sculling, sailing, kayaking and water skiing that can be enjoyed throughout the year. This Lake is a home to numerous migratory birds like Siberian duck, Storks and Cranes during the winter months. The Government of India has declared this lake as a protected national wetland.
Sukhna Lake is generally the venue for many festive celebrations at many occasions and "The Mango Festival" held in summers or monsoons when varieties of mangoes are on display to the public. During a year other annual food festivals, featuring specialties from different Indian States or abroad are held here along with cultural performances.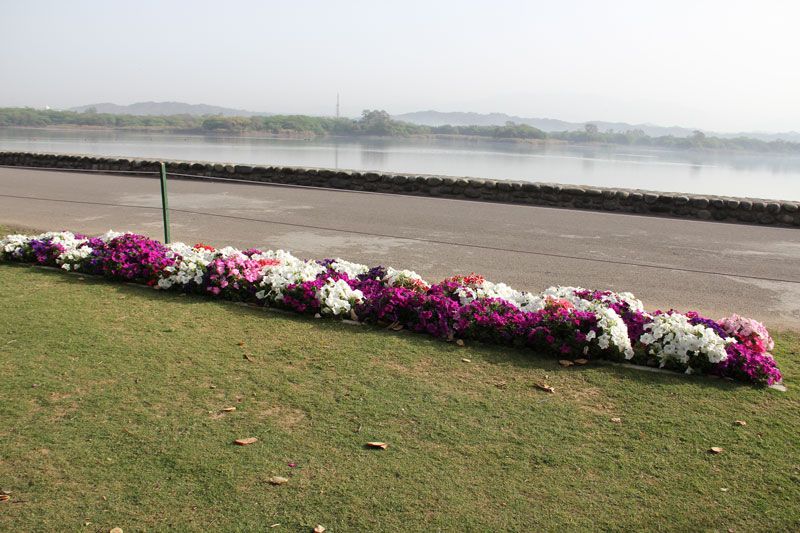 2. Rock Garden of Chandigarh (Editor's Choice)
The Rock Garden also known as Late Nek Chand's Rock Garden which is named after its founder Late Nek Chand is one of the very well-sculptured gardens in Chandigarh. Lt. Nek Chand, started the making of this garden secretly in his spare time in late 50's. Nek Chand was an incredible self-taught artist and his extraordinary achievement in building this 25 acre Rock Garden has brought him laurels not only in this city but all around the world. This Garden consists of over 2000+ self sculptured statues, man-made waterfalls and amphitheatres, which speak about their creativity themselves and surprises the visitors.
Rock Garden is spread over a large area of 25 acres. It is completely built of used industrial and home waste and throw-away items (bottles, glasses, bangles, tiles, ceramic pots, sinks, electrical waste, etc.). Rock Garden consists of man-made waterfalls and many other beautiful and unimaginable sculptures that have been made of scrap. A must visit place on your visit to Chandigarh to see the unsurpassed beauty of this manually designed sculptured garden.
3. Government Museum and Art Gallery, Chandigarh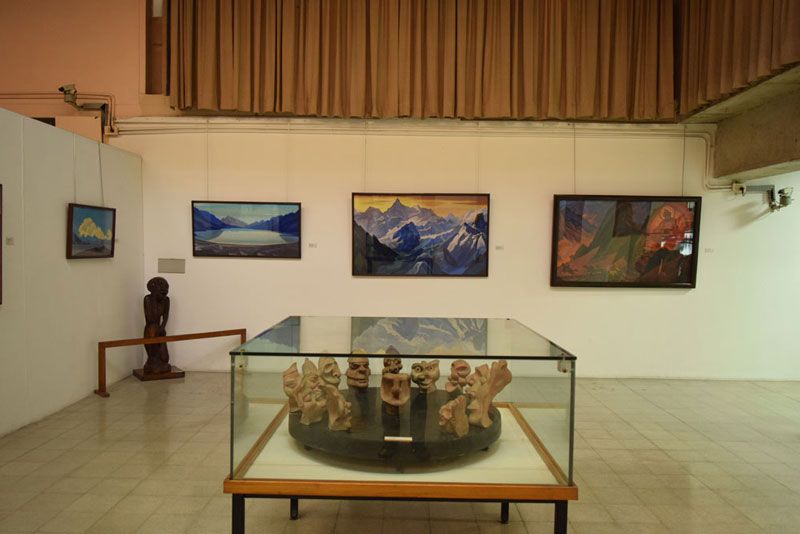 Sector 10-C near the Rose Garden
The Government Museum and Art Gallery is a gallery located in Sector 10 of the City Beautiful. Government Museum and Art Gallery was established in the year August 1947, the building is in square dimension of and was designed by world renowned french architect, Le Corbusier. The museum/art gallery displays mostly Indian artwork such as sculptures, books and paintings with two museum shops for the buyers. The Government Museum and Art Gallery has the following sections, each with further sections, other than the gallery itself:
The National History Museum
The National Gallery of Portraits
The Chandigarh Architecture Museum
It is led by curator and director N.P.S. Randhawa and the Museum Advisory Committee.
4. Zakir Hussain Rose Garden (Editor's Choice)
Zakir Hussain Rose Garden, named after India's former president, Zakir Hussain, was created in 1967. It is a beautiful botanical garden located in Chandigarh and covers an area over 30 acres. Rose Garden consists of 50,000 rose-bushes of 1600 different species. Built under the guidance of Dr M.S. Randhawa, Chandigarh's first chief commissioner, this botanical garden is one of the Asia's largest gardens of its unique kind and class. Rose garden has many trees of great medicinal value too .Some of the medicinal plants that can be found here are bel, bahera, harar, camphor and yellow gulmohar. The rose plants have been planted in carved-out lawns and flower beds.
An Annual festival called Rose Festival is held at this venue which is a big cultural event in Rose Garden during winter retrieval months of February or March. It is celebrated making it a tribute to the rose itself that are in full bloom during February-March months, where other activities such as food stalls, drinks, joyrides and contests like photography, gardening, landscaping and Rose Prince and Rose Princess are held, for children below 5, to add more to the festival value.
5. Sector 17 Chandigarh (Editor's Choice - The Plaza)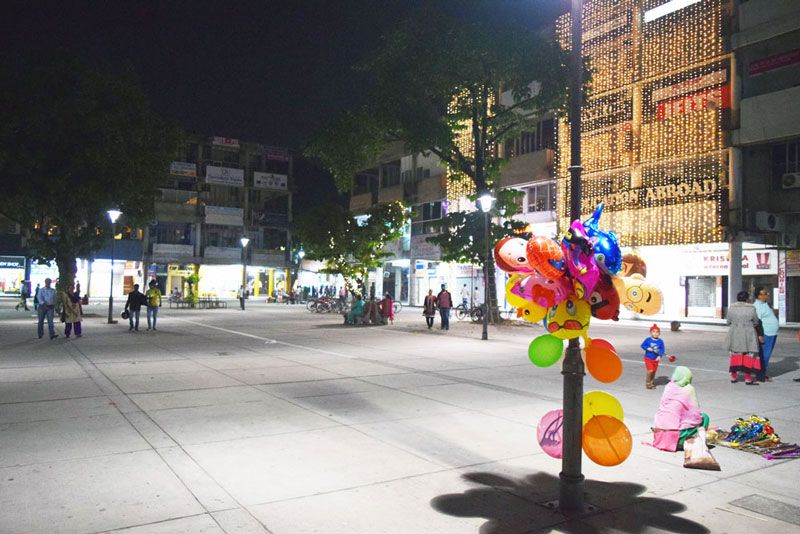 Sector 17 Chandigarh is the heart of "City Beautiful". A hub to many government and non government offices and Main Buildings such as I.S.B.T Chandigarh, Court Complex, City Center 17 Plaza, KC Mall, Neelam Cinema, Restaurants, Pubs, Salons, SBI Building Local head office, Bank Square, Estate office, Licensing authority, Hotel Taj & Shivalik View and many smaller businesses in the lower and upper levels of the plaza buildings make up the internal structure of sector 17. The plaza in this sector is home to many events, flash mobs, tradeshows, and concerts.
With major brand stores, and a central location, sector -17 shopping complex forms the hub of the shopping activity in the City. Sector-17 provides you with huge selection for clothes, shoes, electronics, sports goods, books and anything an avid shopper seeks. One can view the street plays in Plaza situated in sector 17 Main Market, which can be viewed by everyone.
6. Elante Mall (Editor's Choice)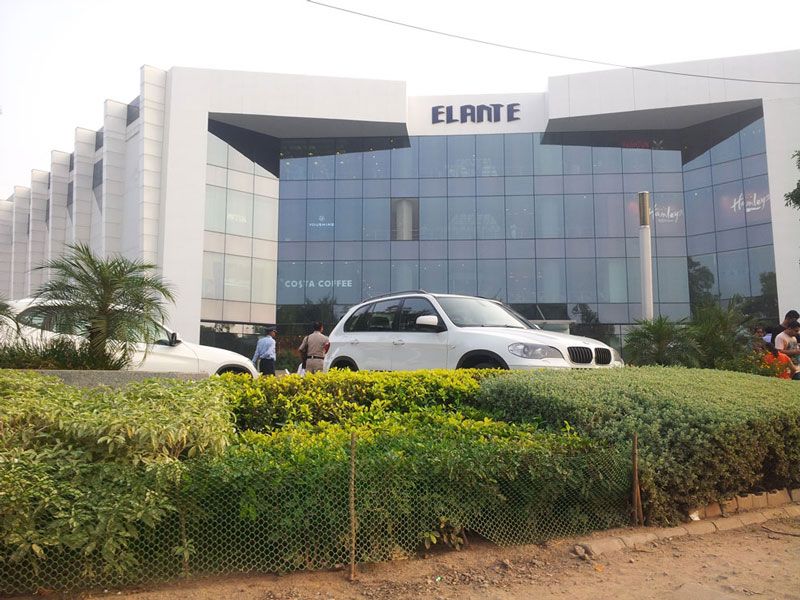 Plot No. 178, Industrial Area Phase 1, Chandigarh 160017, India
Elante Mall is a shopping mall situated in the city of Chandigarh. Touted as the largest mall in Chandigarh, with the area of 1,150,000 sq ft, it boasts of being the biggest shopping mall in Northern India and the third biggest in India which covers 20 acres of area in total.
Elante is a great package of a big food court, a marvelous courtyard consisting of numerous cafes, sports bars and various clothing brands. In the film entertainment section, Elante Mall has an 8-screen Multiplex of PVR Cinemas on its top floor, for entertainment. For kid's fun and entertainment, there is bungee jumping and Fun City Game zone on the top floor which has large numbers of games for all age groups.
Moreover the city has many malls with 4 or 5 screen multiplexes. Some of these are:
Fun Republic (Fun Cinemas) in Manimajra
DLF DT Cinema in IT Park
Green House Entertainment (Big Cinemas) and Centra Mall (PVR Cinema) in Phase 1, Industrial Area
Big Cinemas at Downtown Mall, Zirakhpur on Chandigarh-Punjab border
Fame Cinemas at Shalimar Mega mall,
Piccadily Square in Sector 34, Chandigarh. Many more are coming up in Chandigarh and around soon.
7. Iskcon Sri Radha Madhav Temple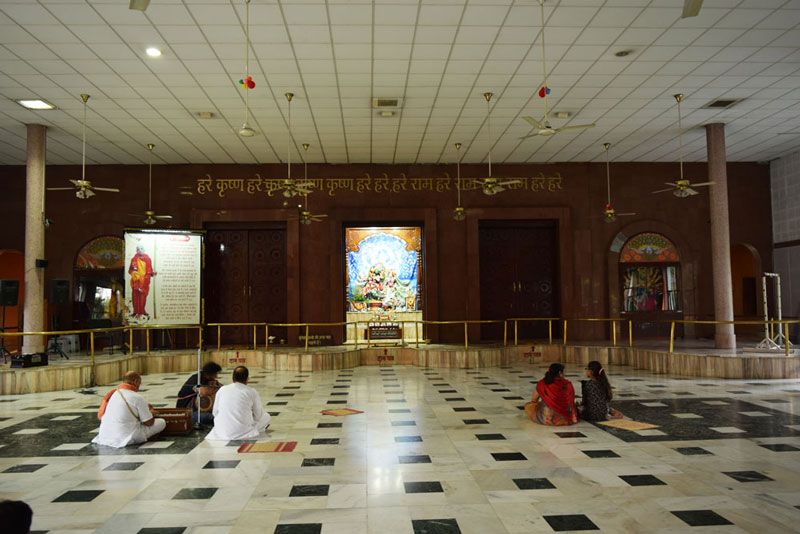 Hare Krishna Dham, Sector-36B, Dakshin Marg, Chandigarh 160036, India
This ISKCON Temple is primarily dedicated to Lord Krishna and Radharani. ISKCON temple is a place of worship for the followers of the International Society for Krishna Consciousness also known as the Hare Krishna movement. This ISKCON temple was created to spread wide the practice of Bhakti Yoga, with thoughts and actions devoted towards the reconciliation of Lord Krishna, it is a well spread complex with a large number of rooms for the temple priests in the backside.
The Big hall inside is mostly experienced chorusing with kirtans and Hare Krishna chants, ISKCON is where people come for Lord Krishna and Radha Rani's darshan to discover their inner peace. As per tradition being followed, daily six aartis are offered by twenty four trained priests to the temple deities and along with six corresponding bhoga offerings. A beautiful, glorious temple, it is filled to the hilt during festivals like Janamashthami with ardent followers and devotees. Towards the back of the temple is a garden and temple's guest house.
8. Punjab University
Punjab University is the one of the oldest Universities in India that was established in 1882 as University of Punjab at Lahore (now in Pakistan). Punjab University is ranked 1st among Universities of India and 38th in Asia, Times Higher Education Asian University rankings 2015. Moreover, it is ranked 39th by the Times Higher Education among BRICS & Emerging Economies.
University campus covers an area of 550 acres (2.2 sq. km.) in sectors 14 and 25 of Chandigarh.
9. Tagore Theatre
Tagore theatre is situated in sector 18, Chandigarh. Chandigarh has been named after Rabindranath Tagore, India's Nobel Laureate. It is city's hub for cultural and regional performances which are held in this cuboidal structure. Tagore Theatre was designed by architect Aditya Parkash, team member of the Chandigarh Capital Project Team headed by Le Corbusier and also the principal of Chandigarh College of Architecture has designed few residences in the city.
Many cultural performances and plays are held almost on daily basis and one can often see a play or any other program being held over here if visited.
10. International Dolls Museum
Bal Bhawan, Udyog Path, Sector 23-B, Chandigarh
Timings: 10 am to 5 pm daily (except Sundays and official holidays)
International Dolls Museum in Chandigarh established in 1985 by one of the Rotarians of Rotary club, Mr. Rajendra K. Saboo, is one of the best museums in the country. It brings an insight into the cultural ethnicity of India, through its separate section dedicated to dolls that depict the popular dance forms of India. With main motive to give amusement to the children the museum houses splendid dolls and puppets gathered from all over the world.
Almost 250 marvelous dolls adorn this great museum from countries like Russia, Germany, Spain, Korea Denmark and Netherlands. Another great and entertaining activity adding charm to the museum is the toy train, providing an amazing ride to children.
Kids would also be delighted by the dolls that are depicted from some of their famous story characters, like Aladdin and his Magic Lamp, Sleeping Beauty, Cinderella, Ali Baba and Forty Thieves and Snow White and the Seven Dwarfs. The huge model of German railway station, at the middle of the exhibition hall, is also a visual delight. Value of the museum has been raised from the renovations work which stuns visitors with its great interiors and pleasant ambience. This makes the museum a must-visit destination for kids
11. Child Art Gallery
Government Museum and Art Gallery, Sector 10-C, Chandigarh, India
Timing: 10.00 a.m. to 04.30. PM, Closed on Monday and public holidays
This art gallery is dedicated to the promotion of young artists. Child Art Gallery at Chandigarh is specially meant for the child geniuses, which exhibits the innovative creations of the child folks. The creativity of the little children is unimaginable.
Apart from displaying their works, it also organizes regular art workshops for children and students, which is useful to impart new ideas and techniques in this field for the youngsters. An important feature of this Gallery is that it provides special zone for the special children to display their artistic abilities and creativity.
12. Butterfly Park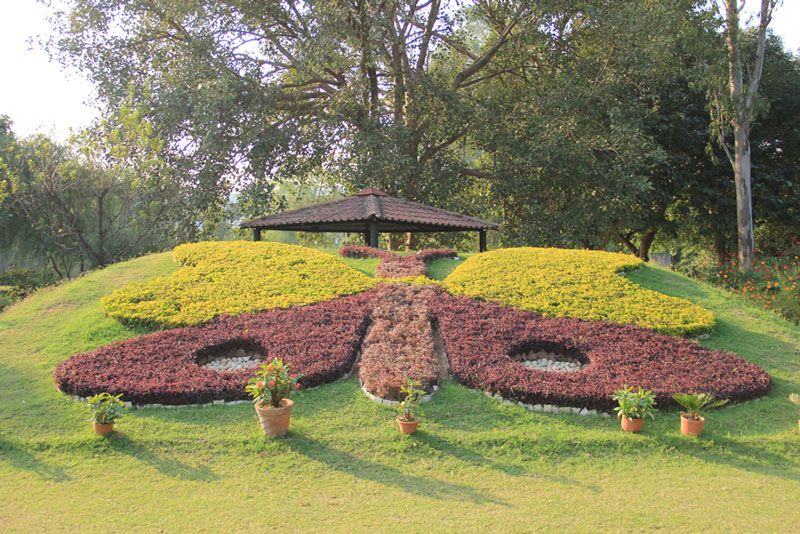 Sector 26 Chandigarh
Butterfly Park in Sector 26, on a narrow road in front of Strawberry Fields School, Chandigarh is an innovative theme park spread over an area of 7 acres with a meticulous landscaping. This park has a huge variety of butterflies and other fauna within its confines which is opened to visitors 24 hours a day. Park is full with different kind of trees, shrubs, vines and a small pond with lotus blooming in them. The park is having wonderful varieties of host plants for butterflies which includes Ashoka, Salix, Mango, Citrus, Amla, Palm, Calotrpis and Capris etc
Butterflies can be seen mostly on bright summer days from March to October. Special care has been taken to create a good habitat for butterflies.
In Northeast corner of the park is a located a spacious conservatory of butterflies for the students of Entomology for studying the behavior of these beautiful insects.
There are over 35 species of butterflies in this park. A few prominent among these are
1. Angled Castor
2. Ape fly
3. Blue Mormon
4. Common Grass Yellow
5. Common Blue Bottle
6. Chocolate pansy
7. Commander and many more
13. Japanese Garden (Editor's Choice)
Japanese Garden was recently built and is a beautiful park located at south east of Chandigarh territory in Sector 31.
It was designed in year 2014 in an area of 13 acres by Govt. of India. This park is built totally on Japanese architecture consisting of water bodies, statues of Buddha, Meiso Koya (Meditation Hut), pagoda towers, beautiful waterfalls and bamboos in golden color. Partially first half of the Garden has been developed, second phase is still in progress which will consist of a 100 feet tunnel giving visitors a unique experience.
It is a must visit to Japanese Garden whenever you pay a visit to City Beautiful.
Park Entry: Free
It is almost at same distance of 5 km from both ISBT 43 and 17.