Considered to be the "Pedestrian's Paradise", Sector 17 market is the ultimate destination for the fun lovers, party animals and shopaholics. You will be amazed to see how the sector is dotted with beautiful fountains, charming sculptures and tree groves. Beautiful neon lights along with the fountains adorn the whole sector, which makes the sector even more mesmerizing and turns the place in a big open-air club. During winters, the warm sun is a treat for the tourists who flock to the plaza area in hundreds.
The zone is dotted with a number of attractive places which is a delight for the tourists. One of the added advantages for the tourists here is that they can roam around the plaza without any traffic hassles. As a result, a number of entertainment spots have grown up adorning the plaza.
Apart from housing the different government offices and banks, you will see numerous shops and stores with a huge selection of dresses, shoes, and electronic goods and sports gears catering to the demand of the ardent shoppers. It is also a place which hosts a number of tradeshows, concerts and other genres of events.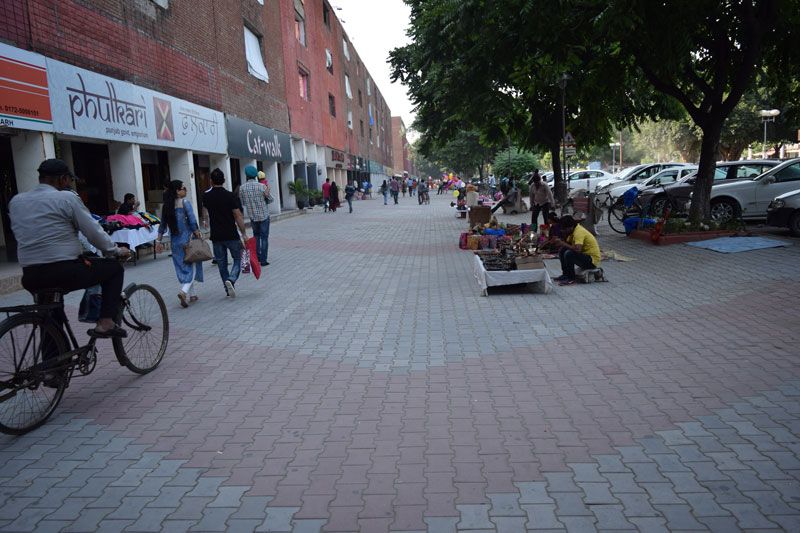 WHAT TO SEE IN SECTOR 17
Sector 17 is famous for numerous hotels and markets which are flocked by the tourists during the month of September to March. Make a point to visit the National Gallery of Portraits located at Sector 17B. It displays photographs from India's freedom struggles and manuscripts from this area, which are rich in historical values.
SECTOR 17 PLAZA

Sector 17, also known as the shopper's paradise is a melting pot for all the shopaholics alike. If you are looking for western wears, branded clothes and shoes, electronic goods, bestselling books, music stores, awards manufacturing and ethnic jewellery in Chandigarh, then the City Centre area in Sector 17 is a must for you to visit. There is a sole government store which sells ethnic Indian clothes called "Phulkari". Here one can also buy the embroidered Punjabi-styled dupattas, the traditional curly-toed shoes and imported woollen garments from Ludhiana. Shops offering traditional handicrafts and modern fashionable goods are just opposite to each other; one can also buy goods to suit one's daily needs and satiating one's hunger for fashionable items.
BOOK STORES, RESTAURANTS AND HOTELS IN SECTOR 17
If you are a book lover, there are some ideal book stores for you there where you can buy all kinds of books, from world classics to the international bestsellers of recent times. You can look for the following shops:
1. Modern Book Shop:Phone Number: +(91)-1723325051
2. Mohindras The Book Shelf:Phone Number: 9872889970, +(91)-172-5087686
3. Classic Stationers:Phone Number: +(91)-172-3326571
4. Rohilla Book Shopee:Phone Number: +(91)-160-5007077
5. Universal Book Store:Phone Number: +(91)-172-2702558, 9417013217
6. City Book Shop: Phone Number: +(91)-172-2708612, 9814017075
Sector 17 is spotted with a number of restaurants which provides some lip-smacking delicacies for whoever visits there.
· Hot Millions:Located in Sector 17 Phase C, it dishes out North Indian, Chinese, Fast Foods and varied types of desserts which you must definitely try out if you need a quick bite.
Phone Number: (0172) 2723000

· Sindhi Sweets: It dishes out pure vegetarian North Indian, South Indian and Chinese cuisines.
Phone Number: (0172)5075222, (0172)5005880

· Girl In the Café: Which caters to Italian dishes and is a lounge bar.
Phone Number: (0172)6532777. 6531333

· BUZZ:Another lounge bar located near the Taj Hotel and FabIndia, its menu includes cuisines like Continental, Chinese and North Indian foods.
Phone Number: +91 8196001115, 8196001119

· Softy Corner:It is a famous ice cream parlor and other desserts.
Phone Number: +919814180069

· Café 17- Taj Chandigarh:Visit there for the delicious North Indian, Continental and Italian dishes.
Phone Number: +918288020530. 8288020502

· Ghazal:For North Indian and Chinese dishes.
Phone Number: (0172)2704448, 2714992

· Blue Ice:Visit there and enjoy a good platter of North Indian, Chinese, Continental and Seafood.
Phone Number: (0172)2703338, 4653337
Along with these, you will find a number of other restaurants and lounge bars: Indi Spice- Park Plaza, Lyon's, Dera- Taj Chandigarh, Cloud 9- Hotel Shivalik View, Black Lotus- Taj Chandigarh, Down Under, Barista Lavazza Espresso Bar, Lava Bar etc.
There are a number of cinema halls at Sector 17 like:
· Neelam Cinema
· DT City Centre
A number of hotels have been set up in and around the Sector for the convenience of the tourists.
1. James Hotels Limited:Located near the famous Rock Garden and the Rose Garden, this hotel has 138 rooms which include Superior Rooms, Premium Rooms, Junior Suites and Suites. The rooms are fully air-conditioned, the lounge is Wi-Fi connected and has 2 restaurants, coffee shop and a bar along with amenities like a spa and a sports lounge. Currency Exchange facility has been set up for the foreign tourists.

2. Hotel Shivalik View:This hotel has well-designed 104 rooms and 4 suites. The rooms are fully air-conditioned, intercom connection, attached bath and cable television. It has an in-house restaurant and bar called Bazm which includes Indian, Mediterranean and Italian dishes. It also has a banquet for a corporate party and events with an accommodation of over 500.

3. The Taj Chandigarh:Considered as one of the most prestigious hotels in Chandigarh, The Taj is located in the middle of the Leisure Valley, Rock Garden and Sukhna Lake, so it is the most sought after hotels for checking in, for the tourists. The rooms are divided into a superior room, deluxe room, luxury room and Presidential Suite. You will get amenities like tea/coffee maker and a mini bar inside the rooms. Some rooms offer a glimpse of the Shivalik Mountain range and the Rose Garden. Taj offers other amenities like business centres, conference rooms, beauty spa, Ayurveda salon, health club, swimming pools, WiFi connection of up to two devices and many more. They serve authentic Indian delicacies along with other delicious cuisines. You can also check out the multiple Schezwan dishes at the Black Lotus. Café 17 offers multi-cuisine plates and the Lava Bar provides you with some refreshing drinks. Sophisticated interior, delightful architectures are an additional delight of this hotel.
Since the place is always buzzing with tourists and with so many hotels around, there are many car parking zones available here.
So, if you want to enjoy a luxurious vacation in Chandigarh, make it a point to check in at the hotels at Sector 17 for their warm hospitalities and mouth-watering foods. With so many amenities and facilities available here, you surely wouldn't want to miss out the name of Sector 17 Chandigarh from your itinerary.