INTERNATIONAL AIRPORT (YET TO BE NAMED) WILL BE COMING UP AT MOHALI NEAR CHANDIGARH
The new international airport at Mohali will offer domestic and international flights. Domestic flights at the existing terminal will get shifted to the new terminal. Location: Jheourheri village, Punjab. Area: approximately 305 acres.
This page was updated on September 27, 2015. Continue reading for new updates and news.
September 2015 Status: Construction completed.Modi Inaugurates the New International Terminal in Mohali the airport on September 11. New terminal may not become operational after inauguration as it may take a few weeks in order to complete pending tasks. International flights may not start until near Christmas as per Tribune News Service. Domestic flights operations may start from the new terminal on October 19.
Approximate date of functioning: October 19, 2015.
Outstanding Issues:
Haryana, Punjab and Chandigarh disputing over the name of the upcoming airport.

Runway upgrade for full sized wide bodied aircrafts may take another 2 years (possibly by Jan 2017). Until then only nearby international destinations will be accessible.

Civil Aviation Ministry draft excludes Chandigarh airport as international hub.

Two International flights may take a month or more to start after the new airport is operational. Dubai will be one of the destinations.

Cat-II or Cat-III ILS (Instrument Landing System) required to operate flights in low visibility whereas airport has only Cat-I ILS.

International flights not guaranteed to start immediately, even after the new terminal becomes operational.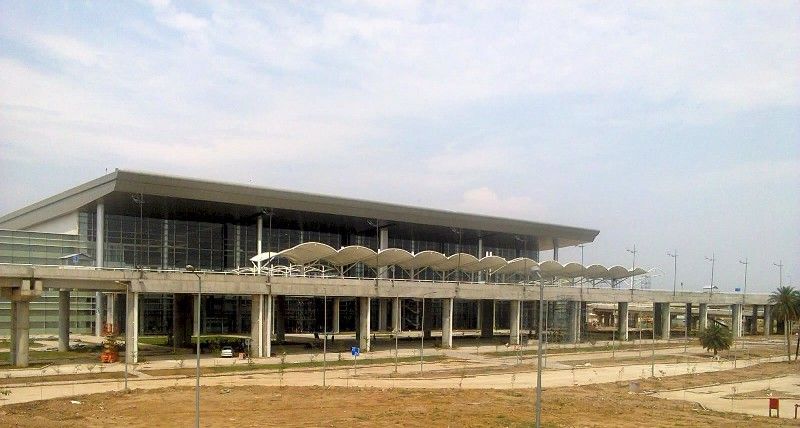 Features:
Stakes: Punjab & Haryana: 24.5% each. Airports Authority of India: 51%.
Management (Joint Venture): Chandigarh International Airport Limited (CHIAL).
53000 Square Meter Terminal
Capacity: 1600 passengers
Departure: Upper Floor, Arrival: Ground Floor
4 Aerobridges
48 check in counters.
Six escalators and 14 lifts.
Parking Bay for 8 Aircrafts
Night Landing Available
Air Conditioned Lounge
Bar
Restaurant
Duty Free Shops
LCD TVs
Wi-Fi
Automated parking space for 500 vehicles.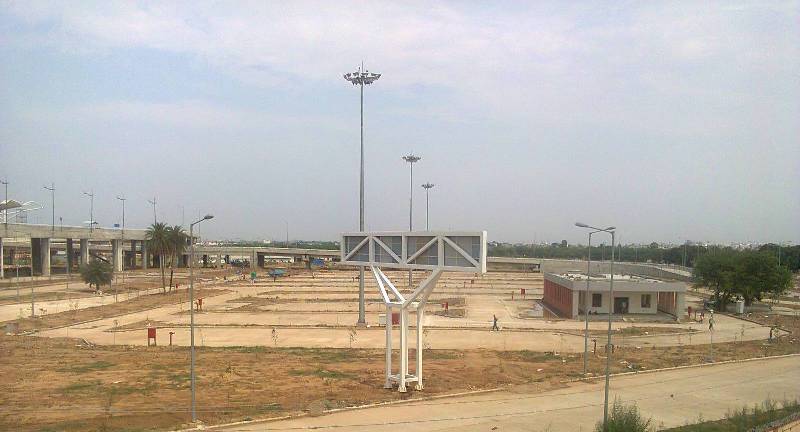 September 23-27, 2015:
Domestic flights to start operating from the new terminal on October 19. International flights may start near Christmas. Spicjet still hasn't finalized a direct flight to Dubai, however once decided it may start around Christmas. Flights to Goa, Puducherry and Kolkata being considered by some airlines. Cat-III ILS will soon be installed (as per Tribune News Service.)

Punjab and Haryana High Court allow private airlines to manage ground handling services against the decision of AAI to let an Air India's subsidiary manage them.
September 1-22, 2015:
New terminal inaugurated by Modi. Sukhbir Singh Badal requests Modi to set up a cargo hub in Mohali which will give a boost to the region's industry.

Indigo's first international flight to Dubai may start on October 19 as per Tribune News Service.

SpiceJet expected to begin international flights by year-end. More international flights will be added later, flying to Bangkok, Singapore.

Private airlines operating at Chandigarh airport were denied ground handling services. Five private airlines file petition against Federation of Indian Airlines after AAI awarded contract to Air India Air Transport Services Ltd (AIATSL) to handle ground operations.

Dispute about naming the airport flares up once again after Akali Dal leader Simranjit Singh Mann calls Bhagat Singh a terrorist.

GMADA (Greater Mohali Area Development Authority) will auction commercial sites on the airport road starting September 22. There are 12 sites available to be auctioned for housing societies, commercial chunks, food courts, schools and a hotel on September 22.

Punjab and Haryana CMs meet. Both the CMs agree on construction of underpass to link the old terminal with the new for easier access to Chandigarh and Panchkula. (based on TNN)
August 2015: PM Modi to inaugurate the airport on September 11. Mohali admin starts cleanliness drive near airport.
July 2015: Final formalities pending: Deployment of CISF officials, setting up of aviation turbine fuel tanks, handing over of the airport from L&T to AAI. (based on Indian Express news article).
June 2015: Modi cancelled trip to Punjab which was scheduled for June 19. No tentative date for inauguration currently available. Chandigarh residents demand international airport to be named after Nek Chand.
May 2015: PM Modi invited for inauguration of the international airport, possibly by May end/June. Test flights could begin in June.
January 2015: Indian Air Force tells Sunday Newsline (Indian Express), runway that meets international norms will not be completed until 2017.Cat II instrument landing System will not be operational until Jan 2017. (required for flight take offs/landing during low visibility). Possibility of mid-sized aircrafts to nearby international destinations possible until runway upgrade completed.
November-Dec 2014: Civil Aviation Ministry proposes draft that will make only 6 metros as international hubs (excluding Chandigarh. Punjab Govt. opposes and will take up the matter with them. Punjab proposes "Shaheed-E-Azam Sardar Bhagat Singh International Airport, Mohali" as the new name of the airport.
July 2014: 60% of the construction work done while the rest will be completed by the deadline of February 2015 by Larsen and Toubro.
May 2013: Haryana and Punjab dispute once again over the name of the new international airport.
July 2012: Larsen and Toubro get the contract to start construction for the new terminal building to be completed by 2014.
May 2012: Punjab and Haryana dispute again regarding naming of the new airport after Union Civil Aviation Minister approved in principle the name "Shaheed Bhagat Singh International Airport". Haryana wants it named after Chandigarh.
October 2011: CM Parkash Singh Badal urges PM Manmohan Singh to lay foundation stone for the airport. Most likely, the airport will be named Shaheed Bhagat Singh International Airport.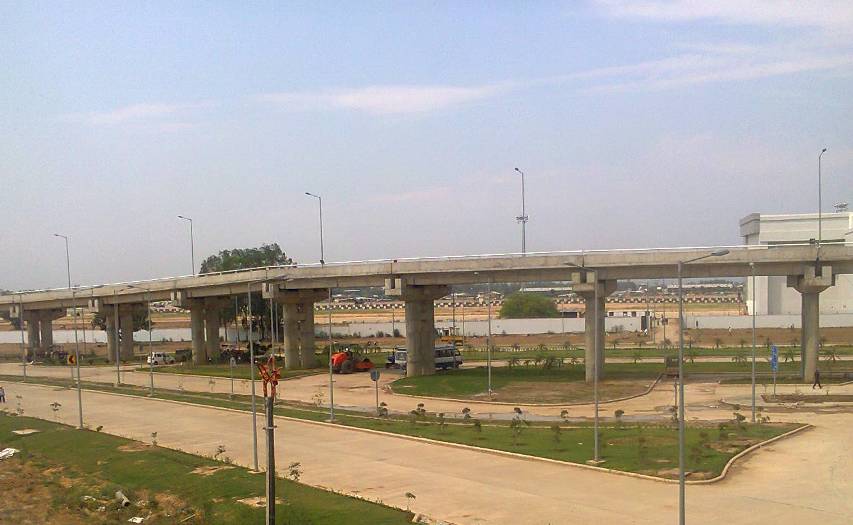 Disputed Names:
Shaheed-E-Azam Sardar Bhagat Singh international Airport, Mohali
Shaheed Bhagat Singh International Airport, Mohali
Bhagat Singh International Airport, Mohali
Bhagat Singh International Airport, Chandigarh
Nek Chand International Airport
Chandigarh International Airport
Mohali International Airport
CONNECTIVITY WITH THE LOCAL CHANDIGARH AIRPORT
The Chandigarh Master Plan discusses three options to access the new international airport by road. The new airport terminal will be located on the south side of the runway.
1. Connecting both the terminals via an underground tunnel across the runway: The existing road that goes to the airport will continue and will go across the other side of the runway via an underground tunnel. This route was not approved as per recent media reports.
2. From Zirakpur: A road off NH21 going via Zirakpur will connect with the new airport terminal. No recent updates available currently on this route.
- Via NH 64, connecting further with Airport-Aerocity Road.
- Via NH 22, connecting further with Airport-Aerocity Road.
3. From Chandigarh Purav Marg, Sector 48 side. No recent updates are available about this route.
CONNECTIVITY OPTIONS PROVIDED BY GMADA
1. Airport Aerocity Road connecting further with a road going directly to the new airport. This road can be accessed near Mohali Railway Station.
2. A road going off Sector 65, Mohali and connecting with the road going directly to the new airport. This route is being constructed.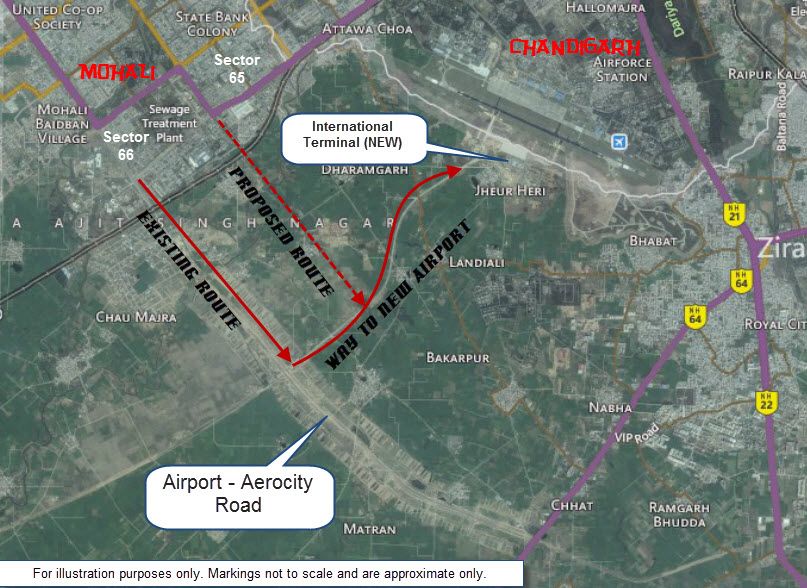 Copyright 2015 (Airportchandigarh.com) - All Rights Reserved.