There are currently two projects under way for Chandigarh International Airport flights operation that are pending. There is a new airport under construction at Mohali which will operate international flights. There is also a plan to operate international flights to some countries from the local Chandigarh Airport. We have provided information about both the projects on this page. It is possible that the status about these projects may have changed since we last updated our website. Kindly contact the relevant official agencies to get the most updated information.
INTERNATIONAL AIRPORT (YET TO BE NAMED) WILL BE COMING UP AT MOHALI NEAR CHANDIGARH
The new international airport at Mohali will be connected to Chandigarh Airport and will offer international flights to all major destinations around the world.
July 2014 Status: Under Construction at Jheourheri village, Punjab in 305 acres. 60% Construction work completed.
Approximate date of functioning: Possibly March, 2015
Issues:
Haryana, Punjab and Chandigarh disputing over the name of the upcoming airport. Construction in process. Building construction started.
Features:
Stakes: Punjab & Haryana: 24.5% each. Airports Authority of India: 51%.
60591 Square Metre Terminal
Capacity: 1600 passengers
Depature: Upper Floor, Arrival: Ground Floor
4 Aerobridges
Parking Bay for 8 Aircrafts
Night Landing Available
Air Conditioned Lounge
Bar
Restaurant
Duty Free Shops
LCD TVs
Wi-Fi
Automated Car Parking
Timelines:
July 2014: 60% of the construction work done while the rest will be completed by the deadline of February 2015 by Larsen and Toubro.
May 2013: Haryana and Punjab dispute once again over the name of the new international airport.
July 2012: Larsen and Toubro get the contract to start construction for the new terminal building to be completed by 2014.
May 2012: Punjab and Haryana dispute again regarding naming of the new airport after Union Civial Aviation Minister approved in principle the name "Shaheed Bhagat Singh International Airport". Haryana wants it named after Chandigarh.
October 2011: CM Parkash Singh Badal urges PM Manmohan Singh to lay foundation stone for the airport. Most likely, the airport will be named Shaheed Bhagat Singh International Airport.
Disputed Names:
Shaheed Bhagat Singh International Airport, Mohali
Bhagat Singh International Airport, Mohali
Bhagat Singh International Airport, Chandigarh
Nek Chand International Airport
Chandigarh International Airport
Mohali International Airport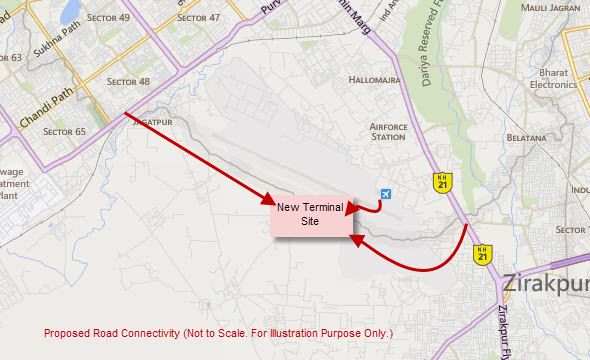 CONNECTIVITY WITH THE LOCAL CHANDIGARH AIRPORT
The Chandigarh Master Plan discusses three options to access the new international airport by road. The new airport terminal will be located on the south side of the runway.
1. Connecting both the terminals via an underground tunnel across the runway: The existing road that goes to the airport will continue and will go across the other side of the runway via an underground tunnel.
2. From Zirakpur: A road off NH21 going via Zirakpur will connect with the new airport terminal.
3. From Chandigarh Purav Marg, Sector 48 side.
INTERNATIONAL FLIGHTS AT THE LOCAL (DOMESTIC) CHANDIGARH AIRPORT.
The local airport at Chandigarh will be offering flights to a few international destinations.
July 2014 Status: International Flights currently not operating. Spicejet may start flights to Dubai in August/September 2014.
Approximate Date of Functioning: Unpredictable.
Issues:
Extension of watch hours after 8 p.m. currently under process - a requirement for international flights, however Spicejet and Indigo given permission.
Timelines:
July 2014: Union defence minister, Arun Jaitley communicates to Punjab's CM, Badal that as an interim solution, Spicejet and Indigo can operate int. flights after 8 p.m.
June 2014: Indian Air Force still unable to manage night landing at Chandigarh Airport.
June 2014: Flights to Dubai and Bangkok get clearance confirmed by Union Civial Aviation minister during a meeting with Mr. Badal, CM, Punjab.
March 2014: Ministry of Defence provides permission for night landing.
October 2013: Indian Air Force denies permission for international flights because of their inability to offer extra staff and extended hours.
September 20, 2013: Union Civil Aviation Ministry gives clearance to Chandigarh Airport to operate international flights. Indigo, Spicejet got approval. Jet airways should get soon. Flights may start to Dubai and Gulf.
November 1, 2012: Badal to approach the Prime Minister Manmohan Singh to request international flights from Chandigarh.
May 9, 2012: Badal talks to Union Civial Aviation Minister to start international flights and get Ministry of Defense to approve flights for Air Arabia and also for Air India.
May 1, 2012: Air India plans to launch international flights to Bangkok and Dubai from Chandigarh. They say that approval from Ministry of Defense will not be required because it is a national airline.
April 2012: Ministry of Defense denies permission to Air Arabia to fly international flights from Chandigarh Airport. Punjab government will take up the matter with them directly.
February 2012: Airport director says large number of formalities need to be completed before international flights can operate.
January 2012: Deputy Chief Minister Sukbhir Singh Badal mentions in an interview with NDTV: "Mohali (international airport) will be operational within one or two months." http://www.ndtv.com/article/assembly-polls/full-transcript-i-your-call-i-with-sukhbir-singh-badal-167218
November 2011: Chandigarh Airport Director H.S. Toor announced that first international flight will not fly on Nov 15, 2011 as announced before and may get delayed by another one month.
October 2011: Airport Authorities provide November 15, 2011 as the date when the international flight to Sharjah will take off. Airforce says application for night landing pending with Civil Aviation/Ministry of Defence.
September 2011: X-ray machines set up. Immigration staff trained at Amritsar. 1500 Square feet space provided to customs officials.
August 2011: Civil Aviation Ministry notifies that Chandigarh Airport is now a "Customs Airport".
July 2011: "Customs Airport" status pending. Customs and Immigration facilities are needed from the government.
June 2011: Night landing permission sought from the Air Force in order to operate international flights.
May 2011: Chandigarh Police employed to handle immigration for international flights.
April 2011: Chandigarh Airport opens new terminal capable of handling international flights.
{fcomment}