INTERNATIONAL AIRPORT IS LOCATED AT MOHALI NEAR CHANDIGARH
The new international airport at Mohali offers both domestic and international flights. Domestic flights at the old terminal in Chandigarh have been shifted to the new terminal. Location: Jheourheri village, Punjab. Area: approximately 305 acres.
February 2018 Status:
International Flights have started to Dubai, Sharjah and Bangkok. Singapore is being considered by Air India.
Outstanding Issues (as of October 2017):
The airport's official name has not been decided so far.

Runway upgrade for full sized wide bodied aircrafts is under construction. Until then only nearby international destinations will be accessible (within approx 5000 km). Current runway length is 9000 ft. which will be extended to 10,400 ft. Expected completion of runway upgrade is March 2018.

Cat-III ILS (Instrument Landing System)

required to operate flights in low visibility whereas airport has only Cat-I ILS (Cat-II compliant).

Mohali Industries Association filed public interest litigation to clear up the matter about operating international flights. The case is still pending with Punjab and Haryana High Court.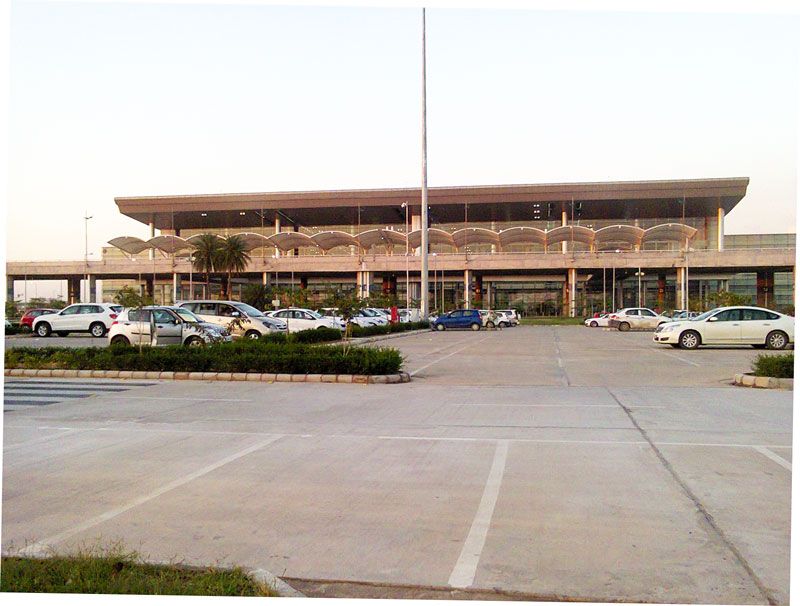 Features (some are upcoming):
Stakes: Punjab & Haryana: 24.5% each. Airports Authority of India: 51%.
Management (Joint Venture): Chandigarh International Airport Limited (CHIAL).
53400 Square Meter Terminal
Capacity: 1600 passengers
Departure: Upper Floor, Arrival: Ground Floor
4 Aerobridges
48 check in counters.
Six escalators and 14 lifts.
Parking Bay for 8 Aircrafts
Air Conditioned Lounge
Bar
Restaurant
Duty Free Shops
LCD TVs
Wi-Fi
Automated parking space for 500 vehicles.
Timelines and News:
January 31 2018:
Cuandigarh Airport to remain closed from February 12 to 26 due to runway repairs. No flights will operate during this period.
December 11 2017:
Chandigarh to Bangkok (and return) flight started on December 11, 2017. Air India will operate the flight 3 days a week on Monday, Wednesday and Friday. Bookings are now open.
October 2017:
Airport to remain closed between 4pm to 5am and on Sundays until October 28 after which new schedule will be announced.

Chandigarh to Bangkok flight may start in December 2017.

Chandigarh to Kullu flight started on October 13.
August 2017:
More food counters and a duty free shop to open. Tenders floated.

Runway overhauling and lengthening to start from October, most likely between 4 pm to 6 am daily.

Chandigarh to Bangkok flight may start from October 6.
July 2017:
Air India announces flights to Bangkok from Chandigarh from October 29, 2017.
March 2017:
Opposition demands that Mohali/Chandigarh airport be named after Shaheed Bhagat Singh.

Student Federation of India protests for not naming the airport after Shaheed Bhagat Singh.
February, 2017:
Winter schedule starts: first flight to land at Chandigarh airport at 9 am and last flight to depart at 7 pm.

BSNL to install Wi-Fi at the airport for passengers.
November, 2016:
Currency exchange counters to start exchanging old 500 and 1000 notes at the airport.
Airport to acquire 128 acres of land to build a new 3.3 km long runway. It will be capable of utilizing Cat-III-B Instrument Landing System for operating flights during the foggy weather. Singapore, Bangkok flights to start in March next year.
September 26, 2016: First international flight to Dubai took off from Chandigarh airport carrying 127 passengers. Airport facilities still basic. Passengers unhappy about transportation options at the airport.
September 17, 2016: Indo-Candian Transport Company and Libra (a private bus operator) consider starting direct bus service from Chandigarh International Airport to Punjab.
September 15, 2016: First international flight lands from Sharjah to Mohali and takes off from Mohali to Sharjah on the same day. Sukhbir Singh Badal travels in the flight to Sharjah with a delegation of 40 trade members.
August 26, 2016: Air India planning to start direct flight from Chandigarh to Singapore.
August 11, 2016: Air India to start the first international flight from Chandigarh to Sharjah on September 15, 2016.
August 2, 2016: Indigo starts sale of the international flight from Chandigarh to Dubai on July 31. The daily flight will start on September 26 at 4.15 pm from Mohali airport to Dubai and will return the following day at 11.10 am in Mohali airport.
July 29, 2016: Indigo tells High Court that it still has not received permission from Centre to operate international flights.
July 19, 2016: Indigo seeks permission to start international flights from Chandigarh to Dubai. Expected start date of the flight is September 15, 2016 at 4.15 pm.
June 25, 2016: 11 member parliamentary committee visited the airport to sort out the issues regarding international flights. Rajya Sabha MP and chairman of the Parliamentary Standing Committee on Transport, Tourism and Culture Kanwardeep Singh said international flights will start by August end. (source: Chandigarh Newsline)
May 2016:
- May 25: Punjab and Haryana High Court has summoned the secretary of Civil Aviation Ministry and chairman of the Airports Authority of India on next hearing date (May 30). Punjab's Advocate General blames "some person" in Delhi for hindering international flight operations in Chandigarh.
- Indigo wants slots for take off and landing at Mumbai airport in return for starting international flights from Mohali. Slots currently not available at Mumbai airport due to saturation. New airport in Navi Mumbai to be constructed in 3 years time which will resolve the saturation issue at Mumbai airport.
April 2016:
- Civil Aviation Ministry, DGCA (Directorate General of Civil Aviation) and AAI to hold a meeting about the issue regarding international flights. So far no date has been announced. High court directs the centere to submit a status report in two weeks.
- April 7: High Court tells Centre and AAI to turn the airport into a wheat store if unable to start international flights and shift operations to the old terminal. Asst. Solicitor General tells court Air India and Indigo agreed to start operations.Customs and immigration facilities required first. Two month's training of staff required and flights can start 45 days after.
March 2016:
- Punjab and Haryana agree on naming the airport after Bhagat Singh. Centre's decision is awaited.
- Anandpur Sahib MP Chandumajra claims international flights from Mohali will start from March 23 (as per Tribune News Service)
- Swiss International to build hotel at the airport which will be completed by 2018. It will have Swiss Café restaurant, lounge, ample space for meetings and events.
- Punjab and Haryana High Court rebukes the Centre and the airport CEO for not providing any satisfactory response regarding delay in international flights from the airport. HC said they are satisfied there is embezzlement. FIRs will be filed for responsible officials. Centre requsted for another hearing on Monday March 21.
- AAI submitted to the court that IndiGo will start a flight to Dubai in Summer 2016 but have shortage of planes. High Court gives another 10 days to AAI and the Centre to provide clear information about then the international flights will start and which airlines will operate them.
- Haryana assembly on Thursday unanimously passed a resolution to name Chandigarh airport as Shaheed Bhagat Singh International Airport.
February 2016: Fly Dubai and BH Air (Bulgarian Airlines) offer to operate flights to Dubai and Sofia respectively. Punjab and Haryana high court direct union ministry to take a decision within two weeks about their offer. Union goverment has also asked Air India to launch an international flight from Chandigarh.
January 2016:
- Youth Congress workers lathi-charged by police while they were undertaking pad-yatra near airport about not naming the airport after Bhagat Singh.
- Punjab industries minister Madan Mohan Mittal demands that the airport should be named after the freedom fighter. Lala Lajpat Rai.
- Government considers naming the airports in India after the cities and not any names.
- Punjab and Haryana high court asks Centre to respond within 10 days regarding commencement of international flights.
- Punjab and Haryana high court grant 2 weeks time to AAI regarding international flights. AAI mentions airport ready for international flights giving example of French PM's recent flight landing at Chandigarh Airport from France. (Jan 28.)
February 2016:
- Punjab and Haryana high court summons Chandigarh International Airport Limited CEO to provide clear information about delays in starting international flights. CEO is required to provide information on the next hearing date.
December 2015:
- No international flights will start during the winter because of insufficient facilities to handle flights during the foggy weather as per IANS.
- Haryana Government proposes a new name for the airport: "Dr Mangal Sein International Airport, Chandigarh." Dr Sein was Jana Sangh stalwart who served as Deputy Chief Minister of Haryana between 1977 and 1979. Government decides not to rename the airport due to non-consesus between Haryana and Punjab governments (as per TNS.)
- Punjab CM Badal appeals to PM Modi to end airport naming dispute by naming it after the martyr Bhagat Singh.
- Mohali Industries Association (MIA) files a public interest litigation (PIL) against the Centre in the Punjab and Haryana High Court for not making the international airport operational for international flights to and from Mohali. (TNS)
- Kamal Sharma (BJP President Punjab) claims BJP and Haryana CM has no problem with naming the airport after Bhagat Singh but it should have "Chandigarh" in the name and not "Mohali." (as per TNS)
- Runway work to be completed by March 2016. (as per Amar Ujala Dec 25.)
November, 2015: Spicejet starts direct flight from Amritsar to Dubai while Chandigarh still awaits its first international flight. A decision has recently been taken by the Union Government not to close the airport for runway resurfacing, which was expected to be closed for about 10 months. This was the reason for the airlines keeping away from starting international flights. This builds hope that the international flights will start soon.
October 19, 2015: The new terminal is now officially open. Passengers happy with the new terminal but not satisfied due to the lack of proper transportation. More CTU buses will be running based on the flights' timetables.
October 1-18, 2015: No flights will be operational on October 16,17,18 due to repair of the runway. Protestors gather near Tribune Chowk demanding that the new airport be named after the martyr Bhagat Singh.
September 23-27, 2015:
Domestic flights to start operating from the new terminal on October 19. International flights may start near Christmas. Spicjet still hasn't finalized a direct flight to Dubai, however once decided it may start around Christmas. Flights to Goa, Puducherry and Kolkata being considered by some airlines. Cat-III ILS will soon be installed (as per Tribune News Service.)

Punjab and Haryana High Court allow private airlines to manage ground handling services against the decision of AAI to let an Air India's subsidiary manage them.
September 1-22, 2015:
Modi Inaugurated the New International Terminal in Mohali

on September 11.

Sukhbir Singh Badal requests Modi to set up a cargo hub in Mohali which will give a boost to the region's industry.

Indigo's first international flight to Dubai may start on October 19 as per Tribune News Service.

SpiceJet expected to begin international flights by year-end. More international flights will be added later, flying to Bangkok, Singapore.

Private airlines operating at Chandigarh airport were denied ground handling services. Five private airlines file petition against Federation of Indian Airlines after AAI awarded contract to Air India Air Transport Services Ltd (AIATSL) to handle ground operations.

Dispute about naming the airport flares up once again after Akali Dal leader Simranjit Singh Mann calls Bhagat Singh a terrorist.

GMADA (Greater Mohali Area Development Authority) will auction commercial sites on the airport road starting September 22. There are 12 sites available to be auctioned for housing societies, commercial chunks, food courts, schools and a hotel on September 22.

Punjab and Haryana CMs meet. Both the CMs agree on construction of underpass to link the old terminal with the new for easier access to Chandigarh and Panchkula. (based on TNN)
August 2015: PM Modi to inaugurate the airport on September 11. Mohali admin starts cleanliness drive near airport.
July 2015: Final formalities pending: Deployment of CISF officials, setting up of aviation turbine fuel tanks, handing over of the airport from L&T to AAI. (based on Indian Express news article).
June 2015: Modi cancelled trip to Punjab which was scheduled for June 19. No tentative date for inauguration currently available. Chandigarh residents demand international airport to be named after Nek Chand.
May 2015: PM Modi invited for inauguration of the international airport, possibly by May end/June. Test flights could begin in June.
January 2015: Indian Air Force tells Sunday Newsline (Indian Express), runway that meets international norms will not be completed until 2017.Cat II instrument landing System will not be operational until Jan 2017. (required for flight take offs/landing during low visibility). Possibility of mid-sized aircrafts to nearby international destinations possible until runway upgrade completed.
November-Dec 2014: Civil Aviation Ministry proposes draft that will make only 6 metros as international hubs (excluding Chandigarh. Punjab Govt. opposes and will take up the matter with them. Punjab proposes "Shaheed-E-Azam Sardar Bhagat Singh International Airport, Mohali" as the new name of the airport.
July 2014: 60% of the construction work done while the rest will be completed by the deadline of February 2015 by Larsen and Toubro.
May 2013: Haryana and Punjab dispute once again over the name of the new international airport.
July 2012: Larsen and Toubro get the contract to start construction for the new terminal building to be completed by 2014.
May 2012: Punjab and Haryana dispute again regarding naming of the new airport after Union Civil Aviation Minister approved in principle the name "Shaheed Bhagat Singh International Airport". Haryana wants it named after Chandigarh.
October 2011: CM Parkash Singh Badal urges PM Manmohan Singh to lay foundation stone for the airport. Most likely, the airport will be named Shaheed Bhagat Singh International Airport.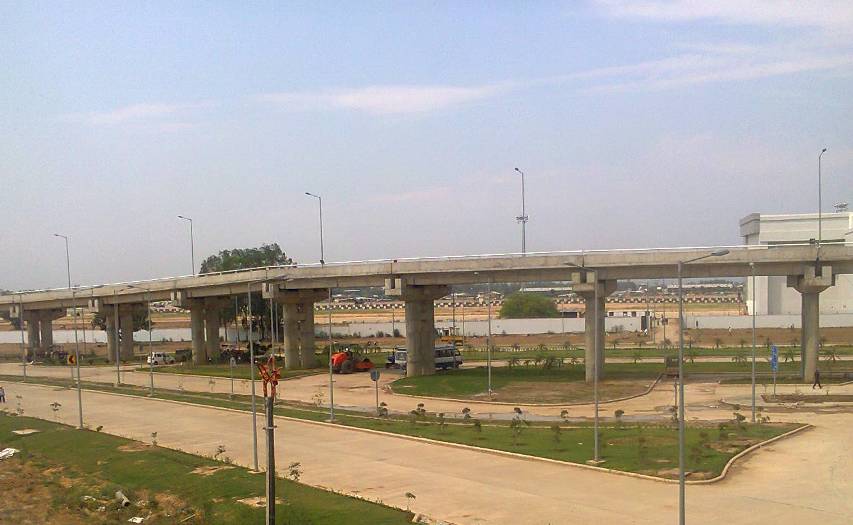 Disputed Names:
Shaheed-E-Azam Sardar Bhagat Singh international Airport, Mohali
Shaheed Bhagat Singh International Airport, Mohali
Bhagat Singh International Airport, Mohali
Bhagat Singh International Airport, Chandigarh
Nek Chand International Airport
Chandigarh International Airport
Mohali International Airport
CONNECTIVITY WITH THE LOCAL CHANDIGARH AIRPORT
The Chandigarh Master Plan discusses three options to access the new international airport by road. The new airport terminal will be located on the south side of the runway.
1. Connecting both the terminals via an underground tunnel across the runway: The existing road that goes to the airport will continue and will go across the other side of the runway via an underground tunnel. This route was not approved as per recent media reports.
2. From Zirakpur: A road off NH21 going via Zirakpur will connect with the new airport terminal. No recent updates available currently on this route.
- Via NH 64, connecting further with Airport-Aerocity Road.
- Via NH 22, connecting further with Airport-Aerocity Road.
3. From Chandigarh Purav Marg, Sector 48 side. No recent updates are available about this route.
CONNECTIVITY OPTIONS PROVIDED BY GMADA
1. Airport Aerocity Road connecting further with a road going directly to the new airport. This road can be accessed near Mohali Railway Station.
2. A road going off Sector 65, Mohali and connecting with the road going directly to the new airport. This route is being constructed.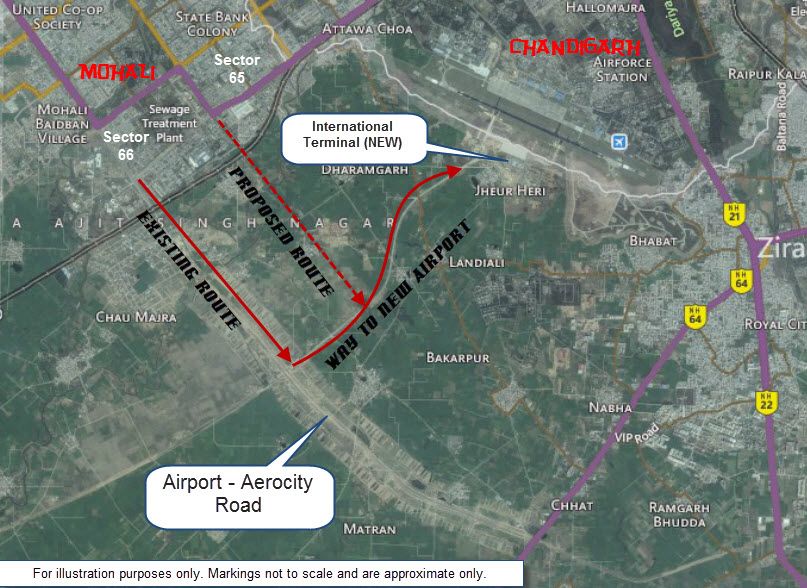 Copyright 2016 (Airportchandigarh.com) - All Rights Reserved.