Contact Info Airlines Facilities Parking Taxi and Bus Luggage and Security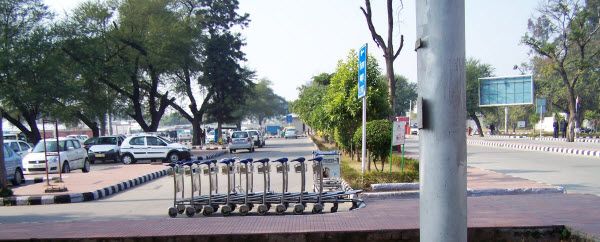 Below you will find all the information you need about Chandigarh Airport. We also have separate pages for Chandigarh International Airport Update and Departures & Arrivals of flights with real time information about flight timings.
CHANDIGARH AIRPORT CODE : IXC (IATA) VICG (ICAO)

Chandigarh Airport (IXC) Address: New Civil Air Terminal, Jhiurheri, District: SAS Nagar, Punjab, India. 160004
Telephone: +91 172 2659886
Fax: +91 172 2659887
E-mail: This email address is being protected from spambots. You need JavaScript enabled to view it.
Chandigarh airport is located at a distance of 13.6 km from Sector 17. The geographical coordinates of this airport are Latitude: 3° 4° 29" N and Longitude: 76° 47' 26" E. Elevation: 1012 ft. Other airports near Chandigarh airport are Shimla Airport (100 Km), Ludhiana Airport (110 Km), Amritsar Airport (246.6 km) and Kangra Airport (250 Km) by road.

Directions From Chandigarh: 

1. The best route to reach the airport is via Airport-Aerocity Road in Mohali because the road is wide and well built:
Take the Jagaptpura Bypass Road adjoining Phase 9 towards IISER (Indian Institute of Science Education and Research). Make a left turn on Airport-Aerocity Road and then another left towards the international airport. You will see signboards along the way. The distance from The Tribune chowk to the airport is 15.1 km.
2. Via Jagatpur and Kandala (The road may not be as good):
Take the Jagatpura Bypass Road adjoining Sector 48, Chandigarh and make a left towards Jagatpura, follow the road towards Kandala village and continue towards the international airport. The distance from The Tribune chowk to the airport via this route is about 8.1 km.
Directions from Zirakpur:

Take the Airport-Aerocity Road from either NH 64 or NH 22 depending on where you are coming from. Turn right towards the international airport following the signboards.
The airlines operating at Chandigarh Airport (as of January 2015) are:
Air India, Jet Konnect (managed by Jet Airways), Jet Airways, Air Asia, Go Air, Indigo and Spicejet. Please click here to view the contact numbers of airlines operating at Chandigarh Airport.
FACILITIES AT CHANDIGARH AIRPORT
Facilities Available at Chandigarh Airport (as of March 2016):
Visitor Entry Fee: Rs. 30 per person. Visitors cannot go to the check-in counter or beyond security gates. Chairs are available in an airconditioned hall with access to a snack shop, drinking water and toilets.
Canteen: Outside the airport terminal, inside parking area. You can buy snacks and beverages at reasonable costs.
Passenger Facilities:
Trolleys (free), Wheel Chair (check with airlines)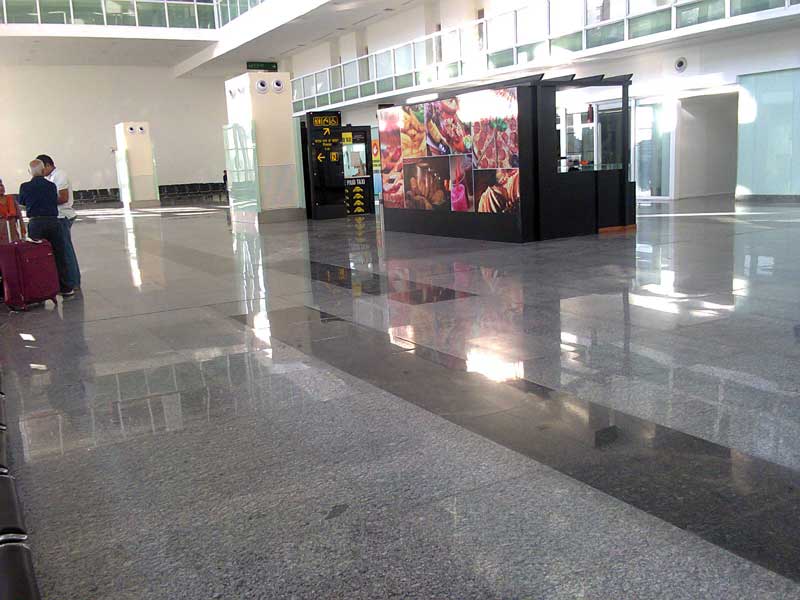 Vehicles are parked in the parking area outside terminal.
PICK AND DROP OFF: 8 MINUTES FREE FOR NON-COMMERICAL VEHICLES
Parking Charges as of March 2016:
Car: Rs. 60 for 2 hours and then add Rs. 10 per hour.
Two Wheeler: Rs. 15 (5 hours)
Bus: Rs. 170 (additional charges may be applicable after a 2 hour limit.)
Note: Overnight Parking is Not Allowed.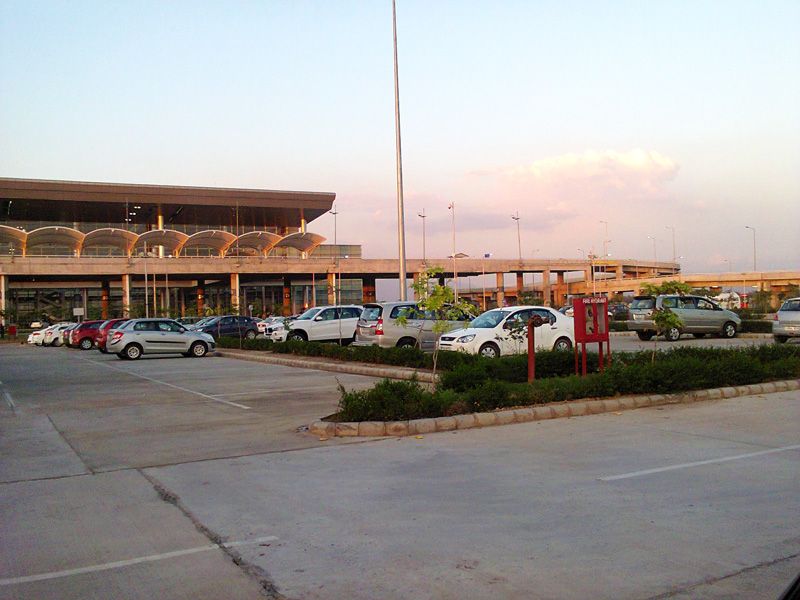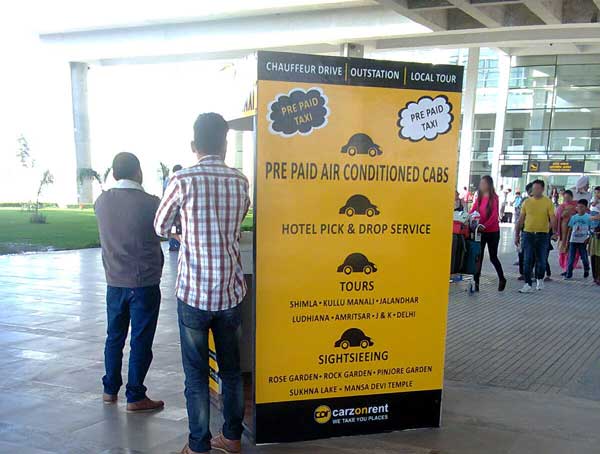 Taxi at the Airport:
CarzOnRent (Local and Outstation Service): 95922-01234, 99150-93942, 0172-5072201
Mega Cabs: 0172-4141414
Local Bus Service Operated by CTU (38, 38-A): Air conditioned bus service is available that can take you to key places in Chandigarh and to Sector 17 and Sector 43 bus stations (ISBT). Buses are available throughout the day. Fares are quite reasonable
Route (38): Sector 22/23, 35/36, 42/43, ISBT-43, 51, 50, 49, 48 mkts, Jagatpura, 65 mkt, White House, Indl. Area Ph-9, Sec-82 mkt, Airport (vice-versa).
Route (38-A): Currently not available.
Inquiry: ISBT, Sector-17, Chandigarh, Ph. No. 0172-2700006 and ISBT, Sector-43, Ph. No. 0172-2624413 5.00 a.m. to 09.00 p.m. Cloak Room facility is provided at ISBT, Sector-17 & ISBT-43 for 24 hours. Accommodation is available at reasonable rates at ISBT-43 also.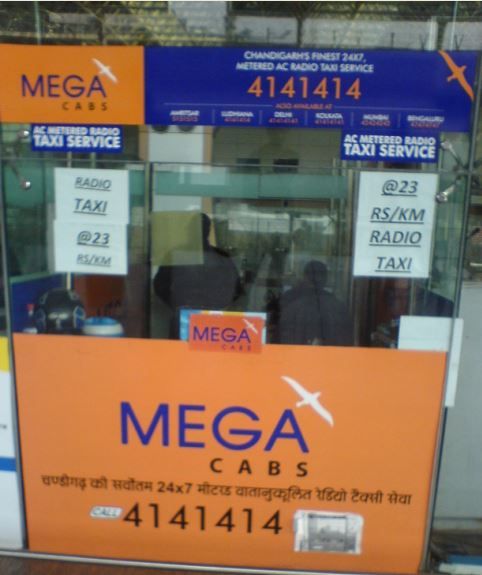 When it comes to security, Chandigarh Airport is no exception. These are the general guidelines on security. You may check with the airline you are travelling with for additional details: Security regulations are framed by the Bureau of Civil Aviation Security and are required to be implemented by all operators. The manpower for the execution of these regulations is drawn from the different Govt. security agencies like CISF, state police etc. Airlines may recruit their own staff for additional security.
Some of the security procedures are listed below: Your ticket/identity is checked at the time of entering the terminal building/counter. The checked baggage is passed through x-ray machines. Passengers are checked through personal frisking, and/or doorframe metal detectors and hand held metal detectors. The cabin baggage is either checked through x-ray machines or physically examined. Security personnel put a security stamp on boarding passes and cabin baggage labels. In case of an alert situation a secondary security check is also carried out before embarkation. Passenger may be requested to identify his checked baggage. However, at some of the airports baggage matching / reconciliation is done. Passengers in transit have to remain on board during the ground halt of the aircraft and follow the instructions given by crew member time to time.
Please keep the following in mind while traveling:
Not to accept any packets from unknown persons. Not to leave baggage unobserved at any time, especially within airport area. Unattended baggage may be removed by Airport Security Staff as an object of suspicion. To declare before checking-in, if carrying any arms or explosive substances. Concealment is an offence under the Aircraft Act and Rules. To carry only one hand baggage, as per the specified dimensions.. Battery cells in any electrical / electronic items are permissible now & will now not be removed at the security point. Loose battery cells / dry cells carried in the hand baggage are liable to be removed and the airline would not be in a position to hand over the same at the destination. Please carry the same in the checked baggage.
Prohibited Items on board
Passengers are not allowed to take the following types of articles on to an aircraft. Those made or intended for offensive or defensive use such as firearms and pointed, sharp-edged or blunt weapons such as truncheons, axes, and loaded or spiked sticks. All ordinary articles capable of being used as offensive or defensive weapons such as ice-axes, metal-tipped walking sticks, open razors, log pointed scissors, knives, professional tools, aerosol containers. Imitations of any of the articles described above, and other articles, which give, rise to reasonable suspicion. Lighter, match box, Swiss knife, pen-knife, betel nut-cutters, knife, scissor exceeding 2 and ½ inches in length, any other sharp metallic object and umbrella. The "Dangerous Goods" are also prohibited from carriage in hand baggage / carry on baggage. Any other articles as may be notified by the Government / Local Authorities from time to time.
Prohibited Items in Checked-in luggage
Dangerous Articles in Baggage: For safety reasons, dangerous articles, such as those listed below, must not be carried in passenger's registered baggage. Briefcases and security type attaché cases with installed alarm devices or incorporative lithium batteries and/or pyrotechnic material. Explosives, munitions fireworks and flares. Gases (flammable, non-flammable, deeply refrigerated and poisonous) such as camping gas and aerosols. Flammable liquids such as lighter fuels, paints and thinner. Flammable solids, such as matches and articles which are easily ignited; substances liable to spontaneous combustion; substances which on contact with water emit flammable gases. Oxidizing substances (such as bleaching powder and peroxides). Poisonous (toxic) and infectious substances. Radioactive materials. Corrosives (such as mercury which may be contained in thermometers, acids, alkalis and wet-cell batteries). The above terms are only illustrative and not exhaustive.
Prohibited Articles
Dry cell batteries, knives, scissors, sharp instruments, tools, firearms, ammunition, and their toy replicas are prohibited in the passenger cabin. Your Valuables Currency, precious metals, jewellery, negotiable instruments, securities, personal identification documents and other items of value, are best carried with the passengers in the cabin.
Restrictions
Medicines and toiletries in limited quantities, which are necessary or appropriate for the passenger during the journey, such as hair sprays, perfumes and medicines containing alcohol maybe carried. However, the airline office may be contacted for detailed updated regulations.