Quick Travel Guide to McLeod Ganj
Photo Credit: Aleksandr Zykov (Flickr)
How to reach McLeod Ganj from Gaggal Airport
McLeod Ganj, near Dharamshala is located in Himachal Pradesh, India and is a popular tourist destination. Dharamshala (Gaggal airport) is well connected to the major airports of India like New Delhi, Mumbai, etc. Therefore reaching Dharamshala by air will not be difficult. However, in order to take the journey from Dharamshala airport to Mcleod Ganj, one will have to jump into a private taxi. The trip up the hill is amazing with a beautiful view of the countryside. The fare for a small size taxi is approx Rs. 1000 and for a bigger car like Innova, it is Rs. 1500. It would take approximately 45 minutes to travel from the airport to Mcleod Ganj. The distance between the two locations is approximately 12.4 miles.
Taxi services from Dharamshala to McLeod Ganj can be availed at http://www.dharamshalataxi.com/packages/ . The nearest railway stations on the narrow gauge Kangra Valley Railway line are Kangra and Nagrola, both of which are approximately 20 kilometers to the south of Dharamshala. The nearest railway station on the broad gauge railway line is Pathankot, which is approximately 85 kilometers from this place.
Where to stay in McLeod Ganj
Once you have reached the place, the next step is to find a suitable location to stay. Options for staying in McLeod Ganj include budget hotels, homestays, hostels and bed n breakfast joints. Talking of hotels, the top 5 hotels in McLeod Ganj are
1. Bella Heights,
2. Chonor House,
3. Udechee Huts,
4. Dev Cottages and
5. Shivalik.
While Bella Heights has amenities like a restaurant, room service, free parking for cars, free high speed internet, it has got mixed reviews from its patrons. Charges for a single double occupancy room in this hotel start from US$ 61 excluding taxes and fees. Other hotels offer comparable facilities excluding or including services like free airport transfers, free breakfast, etc.
One hotel worth mentioning here is The Chonor House, touted by visitors to be the best hotel in McLeod Ganj. It offers its visitors a virtual tour of Tibet with its rooms richly painted in murals depicting themes like Wild-life, Opera, Tribes, etc. Since this hotel is located very close to the Dalai Lama temple if offers visitors a ring side view of the temple activities.
Climate in McLeod Ganj
Mcleod Ganj is located at an elevation of 1750 meters from the sea level. Therefore climate in this place is expected to be cooler than that in Dharamshala, which is located at an elevation of 1400 meters from the sea, and which is a hill station. Temperatures in January, a winter month, may dip below freezing point with clear skies, while in June, a summer month; they may go as high as 38 degrees Celsius again with clear skies.
The climate in March, when the Dalai Lama holds his discourses, is invariably very cold. Monsoons here start from July, are said to be very wet and go on until September. The climate of Mcleod Ganj during October is expected to be pleasant with temperatures hovering within a range of 13 degrees to 26 degrees. Mornings and evenings will be chilly while during day time, it will be pleasant. Humidity will be heavy around 31%. This may result in heavy sweating for both locals and visitors alike.
Places to visit in McLeod Ganj
There are a lot of places to visit, things to do and courses to learn in Mcleod Ganj. While tourists can enjoy the Bhagsung Fall, Dharamkot and Rakkar, places where one can enjoy a day picnic and experience the culture and practices of the locals, Kunal Pathan, and Tsuglagkhang Complex give tourists the temple experience. The Kunal Pathan, located 3 kilometers from Dharamshala, is a temple frequented by many tourists and locals alike. The Tsuglagkhang Complex is said to be the largest Tibetan temple outside the country of Tibet. This temple has a large meditation hall full of some interesting statues and thangkas. Then there is the Kalachakra temple with beautiful murals representing the culture of Tibet. It is the monastery of the Dalai Lama and is therefore located just in front of his residence. For the more adventurous tourists, locations like the Bhagsu waterfall, Dal Lake, Indrahar pass and Triund offer ideal adventure opportunities.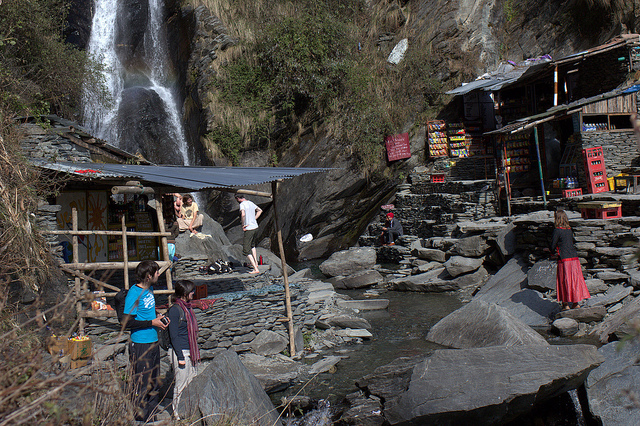 Bhagsu Waterfall (Courtesy: https://www.flickr.com/photos/travelwayoflife/
The Bhagsu waterfall gives tourists an opportunity to have a nice bath, while the Triund offers them trekking opportunities. The Indrahar pass houses the Himalayan Heights Adventure Institute, a leading travel and trekking company, organizing cross country treks to locations like Chamba valley, Bharmour, Kullu and Manali, apart from conducting adventure activities like paragliding, river rafting and other aquatic sports. One of the important attraction of Mcleod Ganj is getting to meet or at least see the Dalai Lama. This may be a dream of a lifetime for many people, an intensive spiritual experience for those following the Buddhist religion and a moment to cherish for those from other faiths. Another very prominent location in Mcleod Ganj is "Little Israel", in Kasol, a remote village located on the banks of the turbulent Parvati River, between Bhuntar and Manikaran in Himachal Pradesh. This place gets its name from the fact that it houses a large population of Israelis.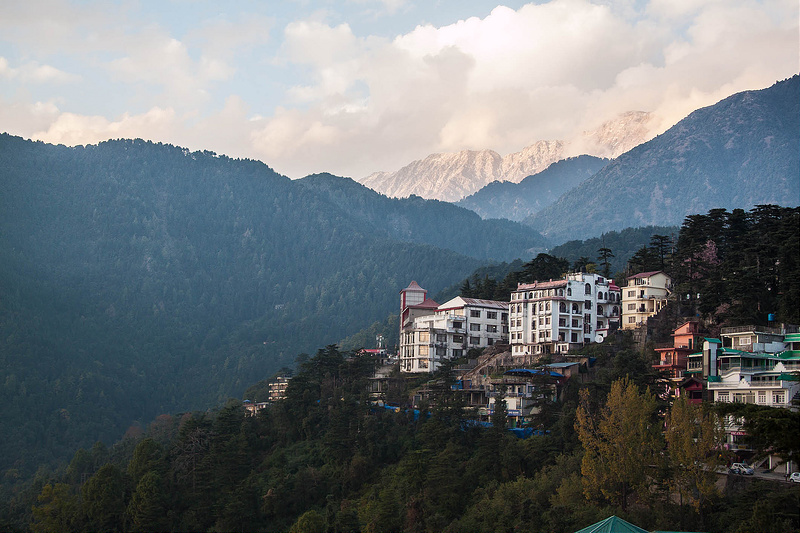 Courtesy: https://www.flickr.com/photos/timklt/
Local Transport in McLeod Ganj
Mcleod Ganj is a small place which can be easily covered on foot. However, when we consider it in unison with Dharamshala then it becomes necessary to opt for transport to traverse the place. Public transport in Dharamshala or for that matter Mcleod Ganj is largely road based. There are public buses travelling from lower Dharamshala to Mcleod Ganj every 30 minutes. Public taxis are also available from the Mcleod Ganj bus stand every 15-30 minutes. Also available are the more expensive private taxis which ply all the time from Mcleod Ganj bus stand and ferry passengers to and from any place to Mcleod Ganj for a tidy sum of money. Auto-rickshaws are also available only during the day time to ferry passengers to and from Dharamshala. Another very important mode of local transport is moving on rented motorcycles.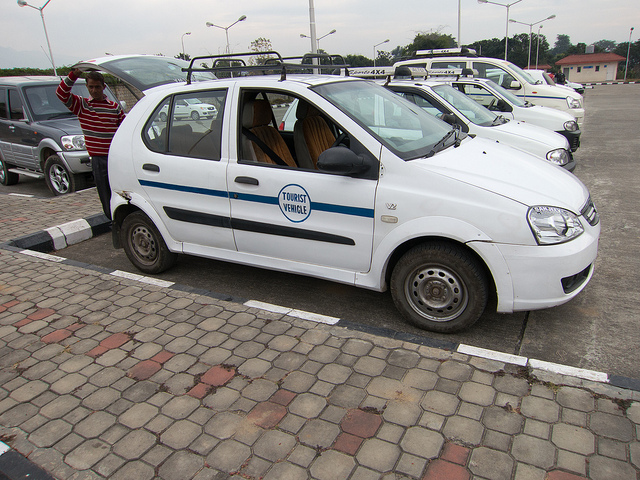 Courtesy: Geoff Stearns (Flickr)
Food in McLeod Ganj
Gastronomically Mcleod Ganj is home to some great local food havens. There are a lot of good food outlets at Jogiwara and Bhagsu Road. Their hosts displaying their menu cards are ever ready to serve their wares, which looked delicious at least on the menu. Diverse items from friend sausages, stuffed omelets to mouthwatering rolls, soups to authentic thukpas are easily available at a short notice in Mcleod Ganj. These are inexpensive items that will not burn a hole in your pocket.
Apart from these small eating joints, Mcleodganj is home to a number of well-known restaurants which serve food for all tastes. While Nick's Italian kitchen and Jimmy's Italian kitchen are well known for their great pizzas and lasagna, the authentic Bhutanese and Tibetan food at Tibet Kitchen is equally delicious. For typical Indian fare one can visit Taste of India, Namgyal café, Shiva café and Mclio restaurant. Therefore, one can have their cake and eat it too in Mcleod Ganj.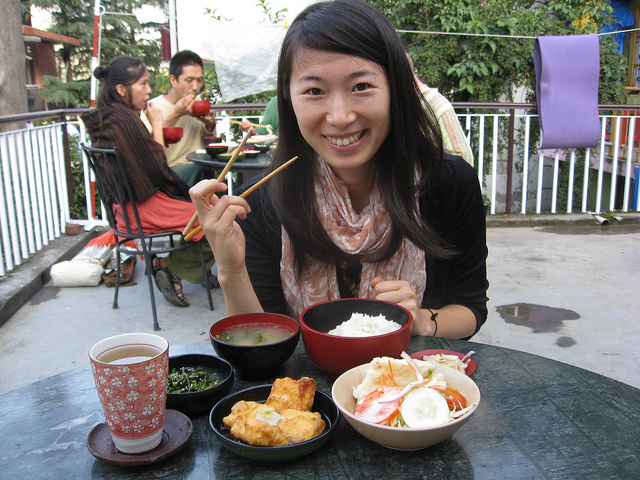 Tourist enjoys Japanese vegetarian food in McLeod Ganj (Courtesy: TaylorandAyumi, Flickr)